Awards and Honors
IIN Ryan Fellows receive Presidential Fellowship
April 28, 2020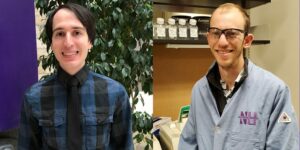 IIN Ryan Fellows Andrew Rosen and Adam Silverman have been selected to receive the Presidential Fellowship, which is the most prestigious fellowship awarded to graduate students by Northwestern University. It is awarded annually to select graduate students who are nominated by their academic programs.
Following a rigorous selection process, they and four other fellows were chosen for their demonstrated record of outstanding academic achievement, promise as scholars, teachers, and researchers, and the ability to communicate the significance and impact of their research to a broad academic audience.
Rosen and Silverman are in the Department of Chemical & Biological Engineering at Northwestern's McCormick School of Engineering. Silverman's faculty advisors are Mike Jewett and Julius Lucks, and Rosen's advisors are Randall Snurr and Justin Notestein.
Read more: Presidential Fellowships