Awards and Honors
Sir Fraser Stoddart receives top international award from China
January 10, 2019
2016 Nobel laureate in chemistry honored for outstanding contributions to science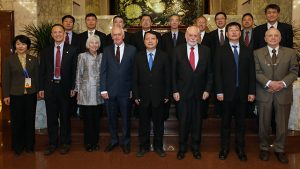 Northwestern University's Sir Fraser Stoddart has received the China International Science and Technology Cooperation award. Premier Li Keqiang of China presented the prize to Stoddart during an award ceremony held Jan. 8 in Beijing.
Established by China's State Council in 1994, the honor is conferred on foreign individuals or organizations that have made important contributions to China's science and technology development. Four others laureates were recognized this year in addition to Stoddart.
"As one of five foreign scientists to be honored this year, I convey my heartfelt thanks to all my close friends and colleagues in China, while not forgetting for a minute the thrill it has been to conduct research along with some of the very brightest students to come out of China's universities," said Stoddart, a 2016 Nobel Laureate in chemistry.
Stoddart has served as a visiting scholar at Tianjin University, has received nine honorary professorships from Chinese universities and has mentored more than 60 Chinese students, of which almost half currently hold professorships at American and Chinese universities.
"It was deeply moving experience for me to meet President Xi Jinping, Premier Li Keqiang and Vice Premier He Liu in the Great Hall of People in front of more than 3,000 attendees," Stoddart said. "It is uplifting to witness government leaders, who put science and technology on a pedestal, find the time in their busy lives to celebrate the achievements of nearly 600 scientists and technologists each year around this time."
Stoddart is Board of Trustees Professor of Chemistry in Northwestern's Weinberg College of Arts and Sciences, director of the Center for Chemistry of Integrated Systems, a member of the International Institute of Nanotechnology and a member of the Robert H. Lurie Comprehensive Cancer Center of Northwestern University.
By introducing an additional type of bond (the mechanical bond) into chemical compounds, Stoddart is one of the few chemists to have opened up a new field of chemistry during the past 30 years. This new bond has led to the fabrication of artificial molecular switches and motors, which has put chemists at the forefront of the burgeoning field of molecular nanotechnology. Stoddart received the Nobel Prize in Chemistry for this work in 2016.
An Edinburgh, Scotland native, Stoddart received the Royal Medal in 2010 from His Royal Highness the Duke of Edinburgh at the Royal Society of Edinburgh, Scotland's national academy of arts and sciences. He was also appointed as a Knight Bachelor in 2007 by Her Majesty Queen Elizabeth II for his services to chemistry and molecular nanotechnology. He was elected to the fellowship of the American Academy of Arts and Sciences in 2012 and membership of the National Academy of Sciences in 2014.
In 2017, Stoddart and fellow Northwestern faculty members Chad Mirkin and Yonggang Huang were elected foreign members of the Chinese Academy of Sciences.