Awards and Honors
Ryan Fellows celebrate 10 years of nanotechnology research, academic excellence at Northwestern
September 08, 2018
Ryan Fellowship benefactors Patrick G. and Shirley W. Ryan, and 75 current and former Fellows, honored during halftime ceremony at September 8 Northwestern football game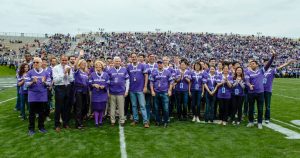 EVANSTON, Ill.—Ryan Fellows traveled from throughout the U.S. and the world to celebrate 10 years of nanotechnology research, academic excellence and scientific discovery at Northwestern University.
Since 2007, thanks to the generous and ongoing support of Patrick G. and Shirley W. Ryan, the Ryan Graduate Fellowship program has supported 154 exceptional students dedicated to nanotechnology research. Ryan Fellows have gone on to leadership positions at preeminent universities, corporations, medical centers and national laboratories throughout the world, continuing their vital research.
"The International Institute for Nanotechnology (IIN) is a global leader in nanotechnology," said Chad Mirkin, director of the International Institute for Nanotechnology (IIN) at Northwestern, the George B. Rathman Professor of Chemistry at Northwestern, and the founder of the Ryan Fellows program. "Under the direction of IIN, Ryan Fellows work alongside renowned faculty researchers in chemistry, biology, oncology and engineering, seeking solutions to society's greatest challenges—from cancer and disease, to food and water safety, the environment and sustainable energy.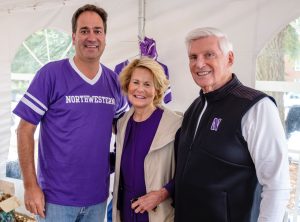 "The Ryan Fellows Reunion honors this impactful program, and most importantly, Pat and Shirley Ryan's generosity and unwavering commitment to educating the next generation of nano scientists," said Mirkin.
The Reunion kicked-off on Friday, September 7, with a half-day symposium featuring six Ryan Fellowship alumni:
• Robert Macfarlane (a 2010 Ryan Fellow inductee), assistant professor of materials science and engineering at MIT.
• Ying Li (2012), assistant professor of mechanical engineering at the University of Connecticut.
• Wei Zhou (2010), assistant professor of electrical and computer engineering at Virginia Tech.
• Liangliang Hao (2013), postdoctoral fellow, Laboratory for Multiscale Regenerative Technologies, MIT.
• Jiayan Luo (2011), professor, chemical engineering, Tianjin University in China.
• Wei Wu (2008), principal investigator, DuPont.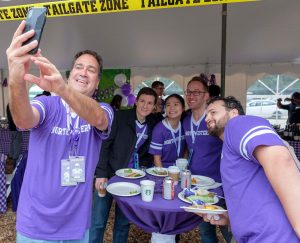 Then on Saturday, September 8, IIN hosted a Ryan Fellows Reunion tailgate reception prior to the start of the Northwestern versus Duke University football game. At halftime, the Ryans; Northwestern President Morton O. Shapiro; Mirkin; Dr. Teresa Woodruff, dean of The Graduate School at Northwestern and associate provost for graduate education; and 75 Ryan Fellows were welcomed onto Ryan Field and lauded for the program's first decade of achievement.
"Ryan Fellows receive extraordinary research and networking opportunities," said Nathan C. Gianneschi, associate director of IIN, and the Jacob & Rosaline Cohn Professor of Chemistry, Materials Science & Engineering, and Biomedical Engineering at Northwestern. "This weekend highlights the fellowship that these alumni share. Their ongoing collaborations and affiliations with Northwestern, and each other, promise to impact science for many years to come."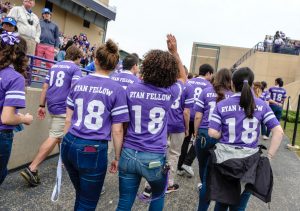 The International Institute for Nanotechnology at Northwestern University is an umbrella organization that represents and unites more than $1 billion in nanotechnology research, education and supporting infrastructure