Awards and Honors
Northwestern Professor William Dichtel to receive prestigious Akron Section Award
September 13, 2018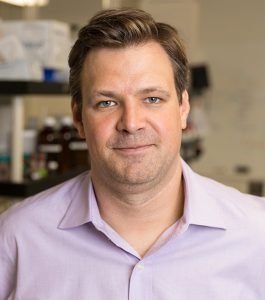 EVANSTON, Ill.—William Dichtel, the Robert L. Letsinger Professor of Chemistry in Northwestern's Weinberg College of Arts and Sciences and an International Institute for Nanotechnology (IIN) researcher, will receive the prestigious Akron Section Award from the Akron Section of the American Chemical Society at the organization's general meeting on Nov 9, 2018.
The Akron Award, which includes a $1,000 honorarium, recognizes young scientists who demonstrate "exceptional promise for making significant contributions to chemical science."
"It's a tremendous honor to receive this award," said Dichtel. "I look forward to accepting the award and speaking at the University of Akron in November."
Dichtel is known for his pioneering research in covalent organic frameworks (COFs). Unlike traditional organic polymers, COFs exhibit long-range order and permanent porosity that can be designed using the tools of organic chemistry. Dichtel has advanced COF synthesis dramatically by making more advanced structures with interesting properties and in developing a basic understanding of how to make high-quality samples. These discoveries will enable future real-world advancements in water purification, energy and gas storage, detection of explosives, and other applications.
"Will's overall body of work in this area demonstrates that he has done more to push forward the fundamental chemical understanding and applications of two-dimensional polymerization and COFs than anyone else, young or old, working in this fast-moving area at the interface between chemistry and materials science," said IIN Director Chad Mirkin.
Dichtel has also made major advances in other types of porous polymers, including materials capable of removing organic pollutants, such as medicines, pesticides, and components of personal care products, from water impacted by human activities. These new materials are derived from corn and can be easily regenerated and reused, and Dichtel co-founded a startup company, CycloPure, in 2016 to commercialize them.
Dichtel received a bachelor's degree from the Massachusetts Institute of Technology (MIT) and a doctorate degree at the University of California, Berkeley. He has won numerous awards, most recently the 2018 Cottrell Frontiers in Research Excellence and Discovery (FRED) Award and the 2017 Leo Hendrik Baekeland Award. He also received a MacArthur Fellowship in 2015, the National Fresenius Award from the Phi Lambda Upsilon National Chemistry Honor Society, the Polymer International – IUPAC Award for Creativity in Applied Polymer Science, the Camille Dreyfus Teacher-Scholar Award, the Arthur C. Cope Scholar Award from the American Chemical Society Award and a Beckman Young Investigator Award from the Arnold and Mabel Beckman Foundation.
The International Institute for Nanotechnology at Northwestern University is an umbrella organization that represents and unites more than $1 billion in nanotechnology research, education and supporting infrastructure.