Awards and Honors
Joseph DeSimone receives $250,000 IIN Kabiller Prize in nanoscience and nanomedicine
September 30, 2015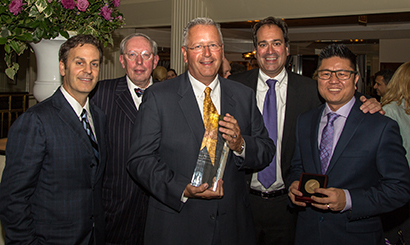 International prize recognizes advances in nanotechnology for medicine and biology
Northwestern University's International Institute for Nanotechnology (IIN) announced today (Sept. 30) that chemist Joseph M. DeSimone of the University of North Carolina at Chapel Hill is the recipient of the inaugural $250,000 Kabiller Prize in Nanoscience and Nanomedicine.
The Kabiller Prize and the $10,000 Kabiller Young Investigator Award in Nanoscience and Nanomedicine were established by the IIN earlier this year through a generous donation from Northwestern trustee and alumnus David G. Kabiller. Recipients are selected by an international committee of experts in the field.
"These awards were established not only to recognize the people who are designing the technologies that will drive innovation in nanomedicine, but also to educate and shine a light on the great promises of nanomedicine," said Kabiller, co-founder of AQR Capital Management, a global investment management firm in Greenwich, Connecticut.
The Kabiller Prize is among the largest monetary awards in the U.S. for outstanding achievement in the field of nanotechnology and its application to medicine and biology.
"The world needs more people like David Kabiller," said Chad A. Mirkin, IIN director and the George B. Rathmann Professor of Chemistry in Northwestern's Weinberg College of Arts and Sciences. "He is dedicated to making a difference and to improving the world through advances in science."
DeSimone's innovative research applying nanotechnology to medicine captures the vision of the Kabiller Prize.
"Joe is a Renaissance scientist, who has made some of the most important advances in the field of nanomedicine," Mirkin said. One of those advances is PRINT (Particle Replication in Non-wetting Templates) technology, invented by DeSimone in 2005.
The technology enables the fabrication of precisely defined, shape-specific nanoparticles for advances in disease treatment and prevention. Nanoparticles made with PRINT technology are being used to develop new cancer treatments, inhalable therapeutics for treating pulmonary diseases, such as cystic fibrosis and asthma, and next-generation vaccines for malaria, pneumonia and dengue.
"I'm thrilled and humbled to be recognized with the inaugural Kabiller Prize by such a world-class institution as Northwestern's International Institute for Nanotechnology," DeSimone said. "The PRINT technology invented in my laboratory continues to be developed for many different applications to improve human health, and my students are leading that charge. This recognition is really a testament to their brilliant efforts."
DeSimone is the Chancellor's Eminent Professor of Chemistry at the University of North Carolina at Chapel Hill (UNC-Chapel Hill). He also is the William R. Kenan Jr. Distinguished Professor of Chemical Engineering at North Carolina State University and of Chemistry at UNC-Chapel Hill.
DeSimone founded a startup company based on PRINT called Liquidia Technologies that is building on the promise of vaccine clinical trial results. The company already has spun out two more companies to use PRINT to improve human health, one in ophthalmology and one in oral health.
"The invention of PRINT technology and its application toward improvements in human health will shape the field of nanomedicine for decades to come and improve the quality of life for many," said Dr. Eric Neilson, vice president for medical affairs and Lewis Landsberg Dean at Northwestern University Feinberg School of Medicine.
The International Institute for Nanotechnology also announced that Warren Chan, a professor at the Institute of Biomaterials and Biomedical Engineering at the University of Toronto, is the recipient of the inaugural Kabiller Young Investigator Award.
The award recognizes young researchers who have made a recent groundbreaking discovery with the potential to make a lasting impact in the same arena.
Chan and his research group have developed an infectious disease diagnostic device for point-of-care use that can differentiate symptoms. A diagnosis occurs when a patient pricks his or her finger, the sample is amplified, and a disease is detected using a smartphone app. (More than one disease can be detected.)
Results for patients infected with HIV and hepatitis B are available in less than one hour at 90 percent accuracy, and the diagnostic device costs less than $100. The device currently is being commercialized and could change the way diseases are diagnosed and tracked globally.
"I am very honored to receive the Kabiller Young Investigator Award in Nanoscience and Nanomedicine, and I hope this recognition helps to inspire other young people in the field of nanotechnology," Chan said.
DeSimone and Chan were celebrated at a private dinner last night in Chicago. The two will be publicly recognized and present their research Oct. 1 at the 2015 IIN Symposium, which will include talks from other prestigious speakers, including 2014 Nobel Prize in Chemistry winner William E. Moerner.