Frontiers in Nanotechnology Seminar Series Presents Xiaodong Chen, Nanyang Technological University
Register Now
"Conformal Nano-bio Interfaces for Sense Digitalization"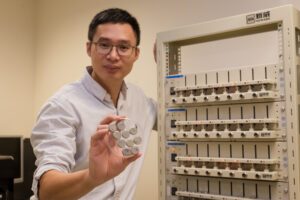 The rising demand for the interconnectedness of electronic devices and data science has led to a greater need for seamless human-electronic device integration.
However, the major challenge lies in the inability of conventional electronics to pick up reliable biological signals from the human body. This is due to fundamental mismatches such as incompatible surfaces (soft skin vs rigid sensors) and signal reading formats (physical vs. digital systems). The emerging nano-bio interfaces have created new opportunities for developing advanced sensing technologies with unparalleled sensitivity and specificity.
In this talk, I will present the development of conformal nano-bio interfaces that allow for the seamless integration of nanoelectronic interfaces into biological systems for sense digitalization with maintaining function even under deformed states. In addition, I will discuss the recent development of a biphasic, nano-dispersed (BIND) interface that can reliably connect soft, rigid, and encapsulation modules without the need for pastes. This interface was used to create stretchable devices for in vivo neuromodulation and on-skin electromyography. The modular integration improves signal quality and electrode performance, simplifying and accelerating the development of on-skin and implantable stretchable devices.
Get to Know Xiaodong Chen
Professor Xiaodong Chen is the President's Chair Professor of Materials Science and Engineering, as well as Professor of Chemistry and Medicine (by courtesy) at Nanyang Technological University (NTU) in Singapore. He also holds the position of Scientific Director and Principal Scientist at the Institute of Materials Research and Engineering at A*STAR in Singapore. Professor Chen's research interests include mechanomaterials science and engineering, flexible electronics technology, sense digitalization, cyber-human interfaces and systems, and carbon-negative technology. He has received numerous accolades for his exceptional scientific contributions, including the Singapore President Science Award, the Singapore National Research Foundation (NRF) Investigatorship and NRF Fellowship, a winner of Falling Walls, and the Friedrich Wilhelm Bessel Research Award. He is also a Fellow of the Singapore National Academy of Science, the Academy of Engineering Singapore, the Royal Society of Chemistry, and the Chinese Chemical Society, and serves on the editorial advisory boards of more than 16 globally renowned journals, including Advanced Materials and Small. He is currently the Editor-in-Chief of ACS Nano, a flagship journal in nanoscience and nanotechnology.
Frontiers in Nanotechnology Seminar Series Presents Xiaodong Chen, Nanyang Technological University