Frontiers in Nanotechnology Seminar Series Presents Adam Braunschweig, City University of New York
Register Now
"Using Nanotechnology to Address Unsolved Problems in Organic Chemistry: How Does Mechanical Distortion Accelerate Diels-Alder Reactions?"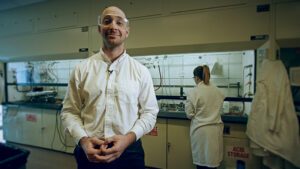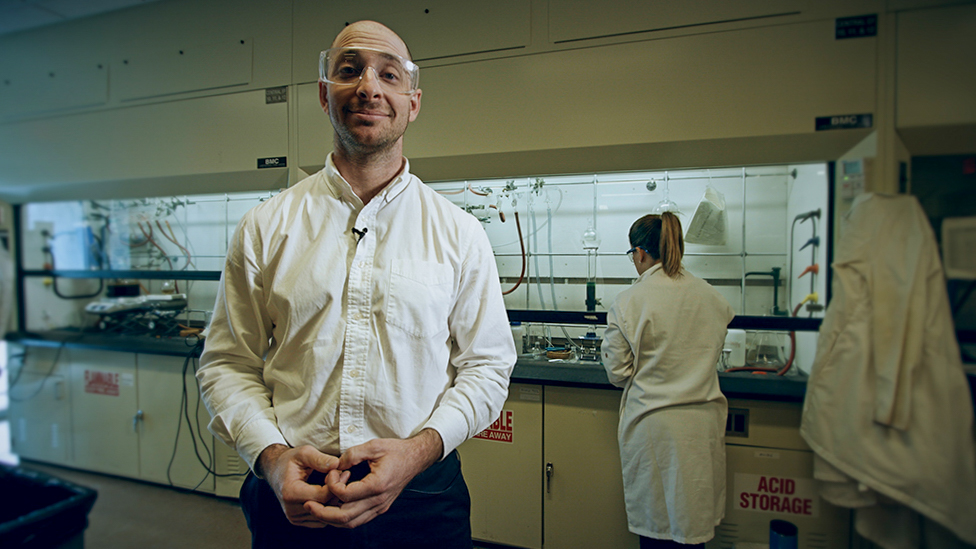 Mechanochemistry, which uses force rather than heat, light, or electrical potential, to drive chemical reactions, could transform how chemicals are produced entirely while significantly reducing the energy demands and waste production involved in chemical manufacturing. However, challenges in quantifying how force affects bond formation have hindered the widespread adoption of mechanochemistry.
This lecture describes how emerging analytical methods involving parallel tip-based arrays are used to determine reaction rates, activation energies, and activation volumes of force-accelerated [4+2] Diels-Alder cycloadditions between surface-immobilized anthracene and four dienophiles that differ in electronic and steric demand. The dependence of rates on pressure is unexpectedly strong, and significant differences are observed between the dienophiles. Multiscale modeling demonstrates that, in proximity to a surface, mechanochemical trajectories exist that are distinct from solvothermal reactions or those carried out under hydrostatic pressure. These results provide a new framework for anticipating how experimental geometry, molecular confinement, and directed force contribute to mechanochemical kinetics, providing a pathway toward realizing the benefits of solvent-free, sustainable mechanochemical syntheses.
Adam Braunschweig is a professor of nanoscience at the Advanced Science Research Center of the City University of New York (CUNY) and a professor of chemistry at Hunter College, CUNY. His research group develops new lithography methods for printing soft materials, supramolecular photocatalysts, and broad-spectrum antivirals. Recently they have begun investigating mucus as an inspiration for advanced materials. Prof. Braunschweig holds the world's most extensive collection of secreted animal mucus in a ‒80 oC freezer outside his office.
Frontiers in Nanotechnology Seminar Series Presents Adam Braunschweig, City University of New York