Awards and Honors
Chad Mirkin receives the prestigious Richards Award and Medal
March 18, 2019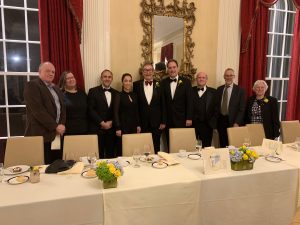 EVANSTON, Ill.—Northwestern University's Chad A. Mirkin received the 2019 Richards Award and Medal, in recognition of "conspicuous achievements in chemistry," from the Northeastern Section of the American Chemical Society (ACS).
Mirkin, the George B. Rathmann Professor of Chemistry and the director of the International Institute for Nanotechnology (IIN) at Northwestern, received the award during the ACS Northeastern Section monthly meeting on Thursday, March 14, 2019, in Cambridge, Mass. Mirkin is the 45th recipient of the biennial award established in 1928. Recipients of the prestigious honor include 11 Nobel laureates and other scientific luminaries.
Mirkin is a world-renowned chemist and expert in nanotechnology, most known for his discovery and development of spherical nucleic acids, and the many medical diagnostic, therapeutic and materials applications that have derived from them: Dip-Pen Nanolithography (recognized by National Geographic as one of the "top 100 scientific discoveries that changed the world") and numerous other contributions to supramolecular chemistry. Mirkin is the author of more than 730 manuscripts and more than 1,100 patent pplications worldwide (more than 310 issued), and he is the founder of seven companies.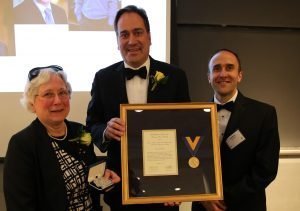 Among an elite group of scientists, engineers and medical doctors to be elected to all three branches of the U.S. National Academies — the National Academy of Sciences, the National Academy of Engineering and the National Academy of Medicine — Mirkin also is a professor of medicine at the Feinberg School of Medicine and a professor of chemical and biological engineering, biomedical engineering and materials science and engineering in the McCormick School of Engineering at Northwestern. Mirkin served on President Barack Obama's Council of Advisors on Science and Technology, from 2009 through 2016.
His scientific achievements have been recognized with more than more than 130 national and international awards, including the NAS Raymond and Beverly Sackler Prize in Convergence Research, the Dan David Prize (Israel), the Wilhelm Exner Medal (Austria), the RUSNANOPRIZE (Russia), the Friendship Medal (China), the Dickson Prize in Science, the American Institute of Chemists Gold Medal and the $500,000 Lemelson-MIT Prize.
Mirkin has served on the editorial advisory boards of more than 20 scholarly journals and is a current associate editor of the Journal of the American Chemical Society and the founding editor of the journal Small, one of the premier international nanotechnology journals. Mirkin has co-edited multiple best-selling books.
The International Institute for Nanotechnology at Northwestern University is an umbrella organization that represents and unites more than $1 billion in nanotechnology research, education and supporting infrastructure.