News
IIN Symposium highlights
December 19, 2019
16th annual event brings hundreds of faculty, students, and industrial researchers to Evanston to hear the latest in nanotechnology discoveries, trends
Nobel laureate Stefan W. Hell was among six internationally renowned scientists who spoke on a wide range of nanotechnology topics at Northwestern University's 2019 International Institute for Nanotechnology (IIN) Symposium on Thursday, Nov. 14.  It was standing-room-only in the Grand Ballroom of the Hilton Orrington Hotel in Evanston as faculty, industry partners, and students from across the area enjoyed the all-day program followed by a closing reception. This year's theme was "Maps, Materials, and Methods for Navigating the Nanoscale World," and the Symposium was presented without charge due to generous support from corporate sponsors.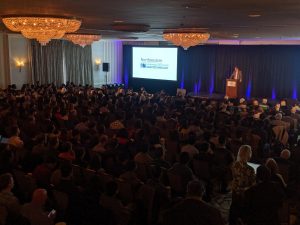 Two of the six speakers were winners of Northwestern's 2019 Kabiller Prize and the Kabiller Young Investigator Award. After welcoming remarks, the following scientists presented these topics:
Stefan W. Hell, "MINFLUX Nanoscopy: Super-resolution Post-Nobel." Hell is the director of both the Max Planck Institute for Biophysical Chemistry in Göttingen, Germany, and the Max Planck Institute for Medical Research in Heidelberg, Germany. He received, along with two others, the 2014 Nobel Prize in Chemistry for the development of super-resolution fluorescent microscopy.
Julia R. Greer, "Materials by Design: Three-dimensional Nano-architected Meta-materials." Greer is the Ruben F. and Donna Mettler Professor of Materials Science, Mechanics and Medical Engineering and the director of the Kavli Nanoscience Institute, both at the California Institute of Technology. Her research focuses on creating and characterizing new classes of materials that utilize the combination of 3D architectures with nanoscale-induced material properties.
Harry L. Anderson, "Flow of Energy and Electrons in Molecular Nanorings." Anderson is a professor in the department of chemistry and a professorial fellow of Keble College at the University of Oxford. His research is in the areas of molecular materials synthesis, supramolecular chemistry, molecular recognition, polymers and dyes.
Speakers, moderators, and distinguished guests at the 2019 IIN Symposium. Back row, left to right – George Schatz, David Mooney, Nathan Gianneschi, Julia Greer and Harry Anderson; front row – Fraser Stoddart, Stefan Hell, Chad Mirkin and Molly Stevens.

David J. Mooney, "Biomaterials to Reconstitute T Cell Immunity." Mooney is the Robert P. Pinkas Family Professor of Bioengineering in the Harvard School of Engineering and Applied Sciences and a core faculty member of the Wyss Institute at Harvard. He is a leader in the fields of biomaterials, mechanotransduction, drug delivery, tissue engineering and immune engineering.
Molly Stevens, "Designing Materials for Ultrasensitive Biosensing and Cell-interfacing." Stevens is a professor of biomedical materials and regenerative medicine at Imperial College London and the recipient of the 2019 Kabiller Young Investigator Award. Her many contributions to nanomedicine include the development of nanoparticle-based serological tests for surveillance of Ebola survivors in Uganda.
Chad A. Mirkin, "Opening the Field of Digital Medicine Through Spherical Nucleic Acids." Mirkin is the George B. Rathmann Professor of Chemistry at Northwestern, director of the IIN and the recipient of the 2019 Kabiller Prize in Nanoscience and Nanomedicine. He is a world-renowned nanoscience expert known for his discovery and development of spherical nucleic acids, and numerous other technologies.
The Symposium presentations can be viewed on IIN's YouTube channel.