Awards and Honors
William Dichtel receives prestigious Blavatnik National Award in Chemistry
July 22, 2020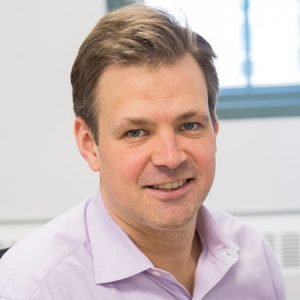 Northwestern University organic chemist William Dichtel has been named the National Laureate in Chemistry by the 2020 Blavatnik National Awards for Young Scientists.
The Blavatnik Family Foundation and the New York Academy of Sciences today announced this year's three National Laureates — honored for their work in the awards' disciplines of life sciences, physical sciences and engineering, and chemistry. Each Laureate will receive $250,000, the largest unrestricted scientific prize offered to young American researchers.
Dichtel is the first Laureate ever selected from Northwestern. Princeton University's Clifford Brangwynne is the 2020 Laureate in Life Sciences; Columbia University's Brian Metzger is the 2020 Laureate in Physical Sciences and Engineering.
The three Laureates and other 28 finalists will be honored at the Blavatnik National Awards ceremony in September 2021 at the American Museum of Natural History in New York.
The awardees are among America's most accomplished and impactful researchers, aged 42 years or younger, driving the next generation of innovation by addressing today's most complex and intriguing scientific questions. The three Laureates were selected from a pool of 305 nominees from 161 research institutions across 41 states.
"This year marks the first time the Blavatnik National Awards has Laureates from Princeton University, Columbia University or Northwestern University," said Nicholas B. Dirks, president and CEO of the New York Academy of Sciences. "We congratulate these institutions for their strong support of cutting-edge research in the sciences. We look forward to inviting these three winning scientists to participate as Laureates in the Academy, sharing their future innovations and discoveries with our members and the world at large."
"It is a true privilege to tackle leading scientific problems while teaching and mentoring the next generation of young scientists," Dichtel said. "Together, we will discover the next great materials that will benefit humankind."
An expert in organic and polymer chemistry, Dichtel is the Robert L. Letsinger Professor of Chemistry in Northwestern's Weinberg College of Arts and Sciences and a member of the Steering Committee for the International Institute for Nanotechnology. He also was a finalist for the Blavatnik National Award in 2017 and 2019.
Dichtel was selected for his research into highly porous two- and three-dimensional organic materials, which can be used to store, detect and separate small molecules and ions. Using these methods, researchers can easily design and tailor materials with high surface areas for specific functions, including storing energy and purifying drinking water.
Dichtel and his research group invented porous polymers derived from corn that remove industrial pollutants and pharmaceuticals from water. In 2016, Dichtel co-founded Cyclopure, a startup company to move these materials beyond the lab and into commercial use. He also is actively developing new ways to make plastics more sustainable and recyclable.
Teaching in the pandemic
Over the years, Dichtel has received various prestigious awards, including a Guggenheim Fellowship, a MacArthur "Genius" Grant and National Awards from the American Chemical Society. In addition to his research, he is an engaged and popular teacher. Even as his large introductory organic chemistry course moves to a remote platform this fall, Dichtel will continue to make personal connections with his students.
"The pandemic will not change that," Dichtel said. "In fact, being remote can lower the barrier to meeting with students or for them to seek help. I still look forward to seeing my students in person, as it's one of the best parts of my job. But we still find ways to make personal connections remotely."
This fall, Dichtel will teach two sections of CHEM 210-1, Northwestern's introductory organic chemistry course, which is heavily attended by students interested in pursuing careers in healthcare. Dichtel views the pandemic and remote teaching as an opportunity to enhance class discussions and emphasizes the importance of chemistry in day-to-day life.
"Organic chemistry is all around us — and is even related to COVID-19," Dichtel said. "Our current situation emphasizes the importance of every person to develop a basic understanding of the sciences and evidence-based decision making."