Awards and Honors
Wasielewski elected to National Academy of Sciences
April 29, 2021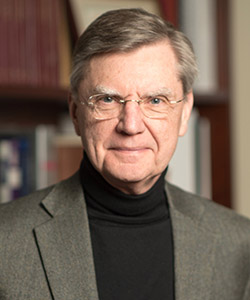 Michael R. Wasielewski has been elected to the prestigious National Academy of Sciences, joining fellow Northwestern faculty members Dedre Gentner and Thomas McDade in the 2021 class. They will be inducted at the academy's annual meeting next year.
Wasielewski is the Clare Hamilton Hall Professor of Chemistry at Weinberg and an affiliated faculty member of the International Institute for Nanotechnology. He is the executive director of the Institute for Sustainability and Energy at Northwestern (ISEN) and director of the Center for Molecular Quantum Transduction, a US-DOE Energy Frontier Research Center. He previously served as chair of the department of chemistry.
His research centers on light-driven processes in molecules and materials, artificial photosynthesis, molecular electronics, quantum information science, ultrafast optical spectroscopy and time-resolved electron paramagnetic resonance spectroscopy.
Wasielewski is a fellow of the American Academy of Arts and Sciences, the American Association for the Advancement of Science and the Royal Society of Chemistry. Among his awards are the Josef Michl American Chemical Society Award in Photochemistry, the Royal Society of Chemistry Environment Award and the American Chemical Society's James Flack Norris Award in Physical Organic Chemistry.