Awards and Honors
Tobin Marks is elected to the European Academy of Sciences
July 25, 2019
Pioneer in the chemical sciences has had impact around the world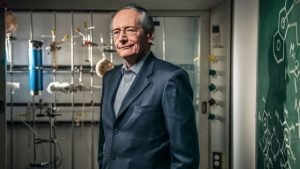 EVANSTON, Ill.—Northwestern University professor and chemist Tobin J. Marks has been elected a Foreign Fellow of the European Academy of Sciences in recognition of his scientific contributions. The induction ceremony will take place in Madrid in October.
Marks, the Vladimir N. Ipatieff Professor of Chemistry in the Weinberg College of Arts and Sciences, is a world leader in the fields of organometallic chemistry, chemical catalysis, materials science, organic electronics, photovoltaics and nanotechnology. He has developed processes for numerous types of recyclable, environmentally friendly plastics, efficient organic displays and transistor circuitry, and organic solar energycells.
The European Academy of Sciences is an international nonprofit organization that promotes excellence in science and technology and their roles in fostering social and economic development. Its members include numerous Nobel laureates, Wolf and Harvey Prize winners, Welch Prize winners, members of various national academies and those having received many other prestigious recognitions.
"I am deeply honored to receive this accolade, especially because it recognizes the outstanding contributions of the many European collaborators, colleagues and students I have worked with," Marks said.
Approximately 20% of Marks' 1,300 peer-reviewed publications have European co-authors. His alumni are spread all over Europe and the world.
Marks, who joined Northwestern in 1970, also serves as Professor of Materials Science and Engineering and Professor of Chemical and Biological Engineering in Northwestern's McCormick School of Engineering and as Professor of Applied Physics.
Marks designed a co-catalyst that led to what is now a standard process for producing better polyolefins, including polyethylene and polypropylene on a huge industrial scale. Found in everything from sandwich wrap to long underwear and numerous biomedical applications, these versatile and inexpensive plastics are lighter in weight, stronger and more recyclable than previous plastics.
Marks also has developed a prototype of third-generation photovoltaic solar cells, composed of flexible, efficient, low-cost, organic materials, as well as new materials for sensors and light modulators enabling high-speed optical data transmission and processing. His other achievements include high-performance printed transistors and light-emitting diodes based on organic materials (OLEDs), which lead to energy savingsand are being incorporated in electronic devices, such as laptop computers and cellphones, as well as being the basis of what is known as electronic paper.
During his career, Marks has received numerous awards, including some of the most prestigious national and international awards in the fields of inorganic, catalytic, materials and organometallic chemistry. Recent honors include the Harvey Prize in Science and Technology, the U.S. National Medal of Science, the National Academy of Sciences Award in Chemical Sciences, the Dreyfus Prize in the Chemical Sciences, the Spanish Prince of Asturias Prize, the German Chemical Society Karl Ziegler Prize, the Materials Research Society Von Hippel Award, the Chinese Academy of Sciences President's Distinguished Scientist (Einstein) Award and mother U.S., British, European and Asian recognitions.
Marks is a member of the U.S. National Academy of Sciences, the American Academy of Arts and Sciences, the U.S. National Academy of Engineering, the Leopoldina (the German National Academy of Sciences), the Lincei (the Italian National Academy of Sciences), the Indian National Academy of Sciences and the U.S. National Academy of Inventors. He is a fellow of the Materials Research Society and the British Royal Society of Chemistry and an honorary fellow of the Indian Academy of Sciences and the Chemical Research Society of India.
Marks has served on numerous scientific committees, governmental and industrial advisory boards and review panels and is co-author of several major policy documents. He has mentored more than 200 doctoral students and nearly as many postdoctoral fellows, with more than 150 alumni holding academic positions worldwide.
Marks partnered with the Dow Chemical Company to develop a world-scale $100 billion polymerization process and co-founded the startups Polyera Corp. and Flexterra Corp. to produce printed electronics. He holds 270 U.S. patents.
This article originally appeared in Northwestern Now.
The International Institute for Nanotechnology at Northwestern University is an umbrella organization that represents and unites more than $1 billion in nanotechnology research, education and supporting infrastructure.