Awards and Honors
Ryan Fellows honored at Spring Recognition Reception
June 07, 2018
The 2017 Ryan Fellows were formally inducted at The Graduate School Spring Recognition Reception on May 15.
The Ryan Fellowship, made possible by a generous donation from Patrick G. and Shirley W. Ryan, supports graduate students dedicated to the exploration of fundamental nanoscale science, and to advancing this knowledge into practical applications of benefit to society. Created in 2007, the program supports the finest graduate students in the country by providing them with them with the education and research experience to assume leadership roles in the realm of nanotechnology. There have been nearly 150 Ryan Fellows, to date.
Ryan Fellows participate in a variety of activities including retreats, lectures, symposia, and collaborative discussions and research with domestic and international partners.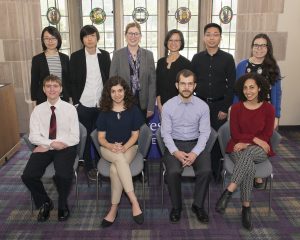 Ryan Fellows attending the Spring Recognition Reception:
(Back row left to right):
Ziwei Wang, Applied Physics
Hyunho Noh, Chemistry
Dean Teresa Woodruff, The Graduate School
Anne d'Aquino, Biological Sciences
Jingshan Du, Materials Science & Engineering
Ioannina Castano, Chemistry
(Seated left to right):
David Burke, Chemistry
Allessandra DiCorato, Materials Science & Engineering
Michael Moody, Materials Science
Sylvia Hanna, Chemistry
Also attending the Spring Reception were Katherine Harmon, applied physics; and Shuya Wang, biological sciences. Ryan Fellows unable to attend the reception were: Jeffrey Chen, materials science; Jasper Dittman, biomedical engineering; Liban Jibrail, materials science; Yuan Liu, chemistry; and Cindy Zheng, chemistry.
Ryan Fellow Andrea d'Aquino also received the 2017 McBride Award. Named for Dwight A. McBride, PhD., former Northwestern Daniel Hale Williams Professor of African American Studies, English & Performance Studies, Dean of The Graduate School, and Associate Provost for Graduate Education from 2010 to 2017, the award recognizes one outstanding graduate student for their contribution of excellence in the area of diversity, service or engagement.
Photos and content courtesy of The Graduate School at Northwestern.