Awards and Honors
Ryan Fellow Riki Drout receives Weinberg College Outstanding Graduate Student Teaching Award
June 12, 2019
The 2019 Weinberg College Teaching Awards: Scholars across the College are celebrated for their excellence in the classroom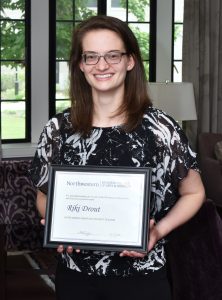 EVANSTON, Ill—Continuing an annual tradition that celebrates high-quality teaching, the Weinberg College of Arts and Sciences has recognized nine faculty members and graduate students for their excellence as undergraduate teachers.
The awards applaud excellence in instruction, significant contributions to curricular innovation, exemplary mentoring of research and independent study, and the fostering of a sense of community inside and outside the classroom.
The scholars were celebrated June 6 at the College's 2019 Teaching Awards luncheon, during which Dean Adrian Randolph thanked them for their support and mentorship of students.
"For all that you do, we are delighted to honor you with these awards," Randolph told the honorees.
Leroy Hall Award for Excellence in Teaching
Henry Binford, an associate professor of history, is the most senior of the tenure-line faculty this year to receive a Distinguished Teaching Award. He accepted the E. LeRoy Hall Award in recognition of that honor.
Binford, who joined the Weinberg College faculty in 1973, "has put teaching and his students at the center of his professional world — to extraordinary effect," Randolph said.
"Students rave about his courses, not because they are easy, but because of how much they learn. He teaches them to think critically, and to see issues from new perspectives, deepening their understanding of American urban history. Many state that Henry's courses are "eye-opening. Again and again, students enthuse about how engaging, interesting, amazing and even awesome he is."
Distinguished Teaching Awards
In addition to Binford, the College honored three other tenure-line faculty with Distinguished Teaching Awards: Antonio Auffinger, an associate professor of mathematics; Mark Alznauer, an associate professor of philosophy, and Stephen Nelson, an associate professor of political science.
Auffinger was noted as a "superb teacher … much loved by students and colleagues alike," while Alznauer was lauded for his "clarity of expression, preparation, finesse with difficult concepts and enthusiasm." Nelson was described as a humane and committed teacher who has had a "transformative" effect on his students' understanding of politics.
Alumni Teaching Awards
Fatima Khan, an assistant professor of instruction in the Middle East and North African Studies program, was the recipient of the College's Arts and Sciences Alumni Teaching Award. The honor is reserved for the College's non-tenure-line, teaching-track faculty.
Khan teaches Arabic language classes as well as a course on Arabic media, using her own self-published book to teach the class. "Students regard Fatima as an exceptional educator despite her courses being regarded as challenging," Randolph said. "She has had a profound impact on Northwestern students."
Other awards
The Council on Language Instruction Award for Excellence in Foreign Language Teaching was given to Patricia Scarampi, an associate professor of instruction in French. Scarampi was described as a "pillar of pedagogy" with an "incomparable dedication to her teaching and her students."
The College also recognized four graduate students with Outstanding Graduate Student Teaching Awards:
Jonas Rosenbrück, a PhD candidate in the program in Comparative Literary Studies, who was praised by his students as "an amazing instructor who was thorough, effective, fun and sensitive to the struggles of his students."
Riki Drout, a PhD candidate in chemistry who one student said "constantly amazed me with her genuine passion for teaching and her raw desire to have students learn, be engaged, and actually care about the work we were doing in class."
Melanie Hall, a PhD candidate in history who was recognized for making each student feel like "an equal during discussion" and ensuring that their "ideas were heard and respected."
Joy Sales, a PhD candidate in history and the Asian American Studies program, who "pours tremendous energy into making a difference in students' lives, in a way that connects her teaching to her intellectual and personal calling," Randolph said.
The Weinberg College Teaching Awards are presented with the support of the Alumnae of Northwestern University and the E. LeRoy Hall fund.
The International Institute for Nanotechnology at Northwestern University is an umbrella organization that represents and unites more than $1 billion in nanotechnology research, education and supporting infrastructure.