Awards and Honors
Professor Omar Farha receives two prestigious honors
September 25, 2019
Omar K. Farha, associate professor, Northwestern Department of Chemistry, received two, prestigious honors in September.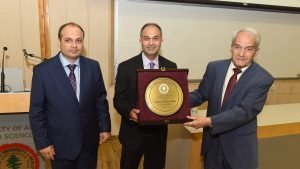 On September 16 and 17, Professor Farha delivered the Makhlouf Haddadin Lectures at the American University of Beirut (AUB) in Lebanon. Established in 2015 with funding from the Makhlouf Haddadin Endowment, the annual Makhlouf Haddadin Lecture features a distinguished chemist from abroad, invited to give both a research and public talk at AUB. Farha delivered the 2019 edition of this lecture, focusing on his work with metal-organic frameworks and their applications. Previous Makhlouf Haddadin lecturers include Sir J. Fraser Stoddart from Northwestern University; M.G. Finn, Georgia Institute of Technology; and Joseph W. Perry, Georgia Institute of Technology.
The following week, Professor Farha received the Japan Society of Coordination Chemistry International Award for Creative Work. The award is presented to an early-career researcher who has contributed to the development of coordination chemistry through outstanding and pioneering work. Farha delivered his award lecture and received his award during the 69th Conference of Japan Society of Coordination Chemistry on Monday, September 23, at Nagoya University, in Aichi, Japan.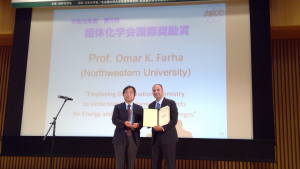 The International Institute for Nanotechnology at Northwestern University is an umbrella organization that represents and unites more than $1 billion in nanotechnology research, education and supporting infrastructure.