News
Northwestern chemistry professor Fraser Stoddart's organic nanocubes are revolutionizing anti-aging skin care
February 04, 2019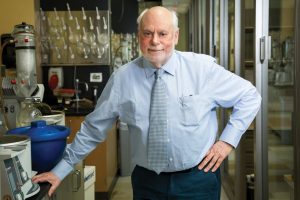 "You could have knocked me over with a feather when CEO Youssry Botros said, 'What we're going to start with, Fraser, are cosmetics,' " says Stoddart, 76.
But the company's co-founder and chief technology officer quickly realized it was a perfect fit—for both scientific and business reasons.
Read the article, appearing in the January 31, 2019 issue of Crain's.
The International Institute for Nanotechnology at Northwestern University is an umbrella organization that represents and unites more than $1 billion in nanotechnology research, education and supporting infrastructure.