Awards and Honors
Nominations invited for $250,000 Kabiller Prize, the world's largest monetary award for achievement in nanomedicine
February 11, 2019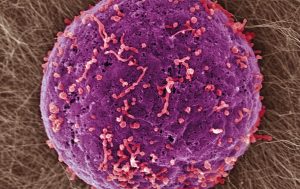 EVANSTON, Ill.—Northwestern University is now accepting nominations for two prestigious international prizes: the $250,000 Kabiller Prize in Nanoscience and Nanomedicine and the $10,000 Kabiller Young Investigator Award in Nanoscience and Nanomedicine.
The deadline for Kabiller Prize and Award nominations is May 15, 2019. Nominations are open this year to Northwestern University faculty. Winners will be chosen by an independent, international committee of experts.
"Our goal is to recognize the outstanding accomplishments in nanoscience and nanomedicine that have the potential to benefit all humankind," said David G. Kabiller, a Northwestern trustee and alumnus. He is a co-founder of AQR Capital Management, a global investment management firm in Greenwich, Connecticut.
The two prizes, awarded biennially, were established in 2015 through a generous gift from Kabiller.
The Kabiller Prize — the largest monetary award in the world for outstanding achievement in the field of nanomedicine — celebrates researchers who have made the most significant contributions to the field of nanotechnology and its application to medicine and biology. The Kabiller Young Investigator Award recognizes young, emerging researchers who have made recent groundbreaking discoveries with the potential to make a lasting impact in nanoscience and nanomedicine.
"David is a visionary," said Chad A. Mirkin, director of Northwestern's International Institute for Nanotechnology and the George B. Rathmann Professor of Chemistry in the Weinberg College of Arts and Sciences. "His generous, ongoing commitment to recognizing and rewarding excellence in nanomedicine is fostering new discoveries with the potential to revolutionize disease diagnostics, drug delivery and prevention."
Nanoparticles for medical use are typically no larger than 100 nanometers — comparable in size to the molecules in the body. At this scale, the essential properties (e.g., color, melting point, conductivity) of structures behave uniquely. Researchers are capitalizing on these unique properties in their quest to realize life-changing advances in the diagnosis, treatment and prevention of disease.
The Kabiller Award selection committee will announce and honor the winners at an awards banquet on Nov. 13, 2019, in Chicago.
Past prize winners:
Kabiller Prize
Robert Langer, the David H. Koch Institute Professor in the department of biochemistry at Massachusetts Institute of Technology (MIT), considered "the Edison of medicine," is a pioneer in multidisciplinary science. The Langer Laboratory at MIT, with more than 100 students, postdoctoral fellows and visiting scientists at any given time — while maintaining more than $10 million in annual grants — is the world's largest academic biomedical engineering laboratory.
Langer has authored more than 1,400 articles and is the most cited engineer in history. He has more than 1,284 issued and pending patents worldwide, and his patents have been licensed or sublicensed to more than 350 pharmaceutical, chemical, biotechnology and medical device companies. His lab, either alone or in collaboration, has produced 40 companies, with an estimated market value of more than $23 billion.
Joseph DeSimone, 2015 recipient
The winner of the inaugural Kabiller Prize in 2015 was Joseph DeSimone, the Chancellor's Eminent Professor of Chemistry at the University of North Carolina at Chapel Hill and the William R. Kenan Jr. Distinguished Professor of Chemical Engineering at North Carolina State University.
DeSimone was honored for his invention of particle replication in non-wetting templates (PRINT) technology that enables the fabrication of precisely defined, shape-specific nanoparticles for advances in disease treatment and prevention. Nanoparticles made with PRINT technology are being used to develop new cancer treatments; inhalable therapeutics for treating pulmonary diseases, such as cystic fibrosis and asthma; and next-generation vaccines for malaria, pneumonia and dengue.
Young Investigator Award
Liangfang Zhang, 2017 recipient
Liangfang Zhang, professor at the University of California, San Diego, received the 2017 Young Investigators Award for his creation of a unique biology-mimicking nanotechnology that holds great promise in the field of medicine. The technology takes synthetic nanoparticles and encloses them in natural cell membranes.
Warren Chan, 2015 recipient
Warren Chan, professor at the Institute of Biomaterials and Biomedical Engineering at the University of Toronto, was the recipient of the inaugural Kabiller Young Investigator Award. Chan and his research group have developed an infectious disease diagnostic device for a point-of-care use that can differentiate symptoms.
Read the entire article at Northwestern Now.
The International Institute for Nanotechnology at Northwestern University is an umbrella organization that represents and unites more than $1 billion in nanotechnology research, education and supporting infrastructure.