Awards and Honors, Other
Nominations for the $250,000 Kabiller Prize, the World's Largest Monetary Award for Achievement in Nanomedicine, Opens February 15
February 15, 2023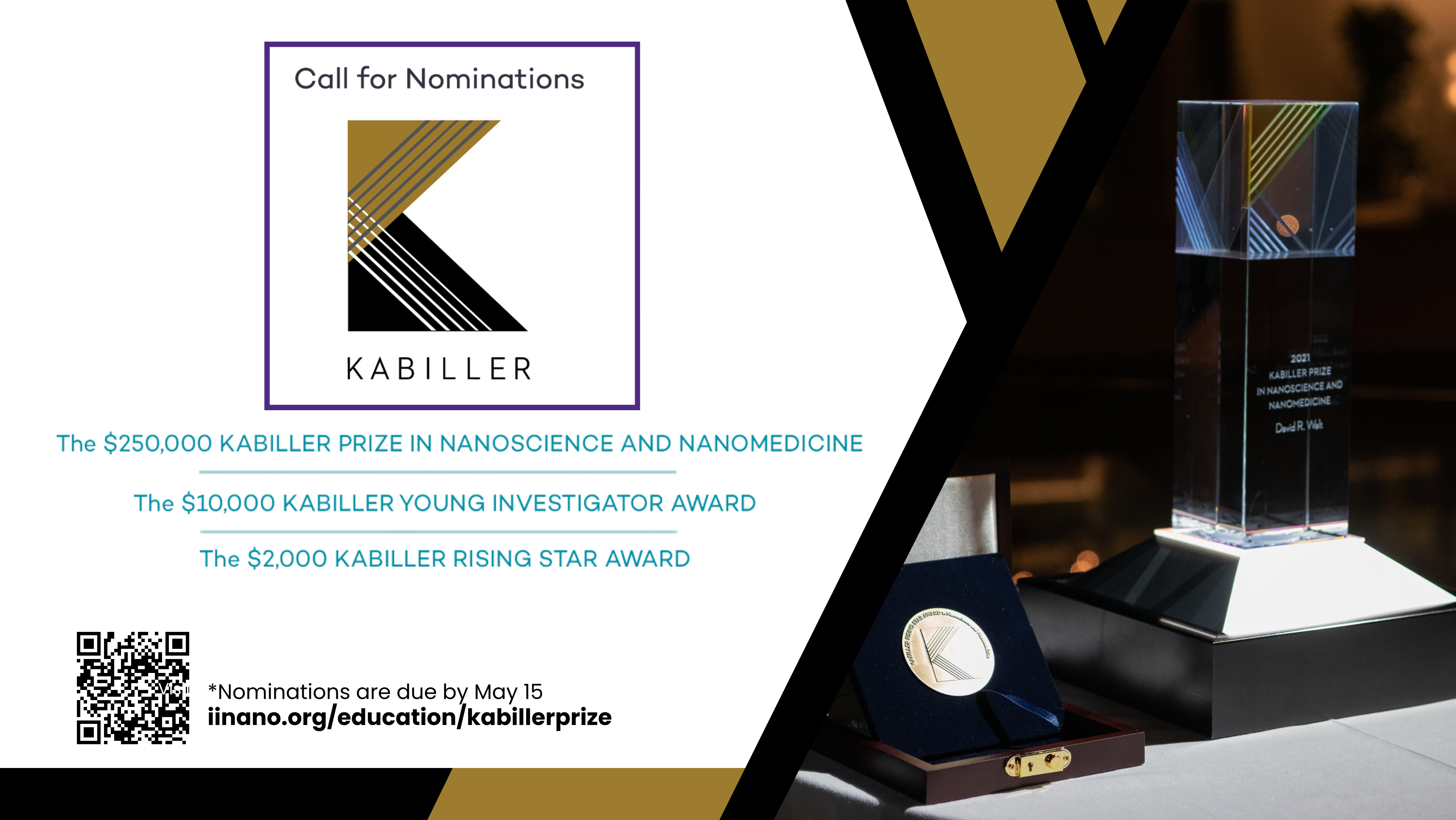 The award is presented alongside the Kabiller Young Investigator Award and Kabiller Rising Star Award
Northwestern University is accepting nominations for three prestigious international prizes: the $250,000 Kabiller Prize in Nanoscience and Nanomedicine, the $10,000 Kabiller Young Investigator Award, and the $2,000 Kabiller Rising Star Award. All three awards are presented biennially and are made possible through the generosity of Northwestern trustee and alumnus David G. Kabiller.
Established in 2015, the Kabiller Prize is the world's most significant monetary award for outstanding achievement in nanomedicine. It recognizes researchers who have made significant, career-long contributions to the field of nanotechnology and its application to medicine and biology.
"For eight years, we have honored the best and brightest minds in the world of nanomedicine, and each year, it is harder and harder to choose a recipient. I am awestruck by their work," says Kabiller. "And with the addition of the Rising Star Award, the future is looking very bright for nanomedicine. I like to tell people that they need to do three things. 1) Be curious; 2) Take risks; 3) Be grateful. Those are qualities all of our previous award winners share, which should motivate us all." 
The IIN awards two other up-and-coming nanotechnology researchers to celebrate their work. The Kabiller Young Investigator Award is given to emerging researchers who have made recent groundbreaking discoveries with the potential to make a lasting impact in nanoscience and nanomedicine. The Kabiller Rising Star Award was created in 2001 and is presented to talented early-career faculty scientists to recognize their outstanding nanoscience contributions.
"To many, nanotechnology sounds like something from science fiction, and I think that's what makes our work so exciting. It's taking these ideas that sound impossible and making them a reality. David is a visionary, and he sees how important it is to encourage the type of thinking and innovation that will take nanomedicine to the next level and make these impossible ideas possible. And that's why the Kabiller Prize, Kabiller Young Investigator Award, and Kabiller Rising Star Award are so important." says Chad Mirkin, founding director of the IIN. 
Nanostructures for medical use are typically no larger than 100 nanometers — comparable in size to the macromolecules that make up the human body. However, at the nanoscale, structures often have unique properties that medical researchers can leverage for treatment. For example, spherical nucleic acids (SNAs) are actively recognized and taken by cells, allowing one to probe the contents of cells or regulate what they do. This makes SNAs uniquely effective in areas like vaccine development. They can then carry both the adjuvant and antigens required to trigger a desired immune response. In dermatology, for example, the skin can actively take them up to target disease-causing genes and fight many forms of cancer.
The recipients will be announced before the annual symposium of the International Institute for Nanotechnology on November 4. The 2023 IIN Symposium will feature talks by all three recipients and lectures from some of the most respected nanotechnology researchers in the world.
The deadline for nominations is May 15. An independent committee of experts in nanotechnology will evaluate and choose recipients.
Kabiller Prize Past recipients: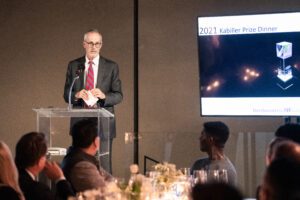 David Walt, 2021
David Walt pioneered the microwell array-based platforms for ultrasensitive biomarker detection, providing practical solutions to urgent analytical problems in genetics, medical diagnostics, and environmental sensing.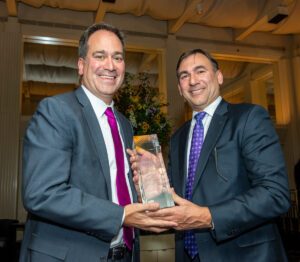 Chad Mirkin, 2019
Chad Mirkin is the founding director of Northwestern's International Institute for Nanotechnology and the George B. Rathmann Professor of Chemistry in the Weinberg College of Arts and Sciences, professor of medicine at the Feinberg School of Medicine, and professor of chemical and biological engineering, biomedical engineering, and materials science and engineering at the McCormick School of Engineering. 
Mirkin is one of the most cited chemists in the world and one of the most cited individuals in the history of nanotechnology. His discovery and development of spherical nucleic acids (SNAs), which form a cornerstone of bionanotechnology, have changed how researchers think about and use DNA and RNA, leading to significant advances in treating diseases spanning from brain cancer to psoriasis. With over 1,200 issued and pending patents and thousands of nano-based products on the market, Mirkin has played a significant role in translating scientific discoveries into technologies that are changing the world.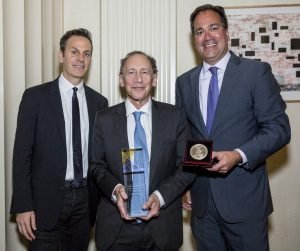 Robert Langer, 2017
Robert Langer is the David H. Koch Institute Professor in the department of biochemistry at Massachusetts Institute of Technology (MIT) and a pioneer in multidisciplinary science. The Langer Laboratory at MIT, with more than 100 students, postdoctoral fellows, and visiting scientists at any given time — while maintaining more than $10 million in annual grants — is the world's largest academic biomedical engineering laboratory.
Described by some as "the Edison of medicine," Langer has authored more than 1,400 articles and is the most cited engineer in history. He has more than 1,284 issued and pending patents worldwide, and his patents have been licensed or sublicensed to more than 350 pharmaceutical, chemical, biotechnology, and medical device companies. His lab, either alone or in collaboration, has produced 40 companies with an estimated market value of more than $80 billion.
Young Investigator Award Past recipients: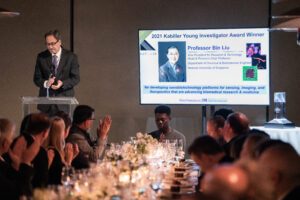 Bin Liu, 2021
Bin Liu has contributed outstandingly to developing nanobiotechnology platforms that advance biomedical research and nanomedicine. In addition, she works to find innovative, practical solutions for disease diagnosis and treatment, bridging cutting-edge and translational research.
Her numerous achievements have included the development of water-dispersible polyfluorenes for DNA sensing, the creation of light-up molecular probes and multifunctional nanoparticle probes leading to the visualization of cancer metastasis and monitoring of tissue regeneration after stem cell transplantation or immunocellular therapeutics, and the development of formulation strategies to track the delivery of nanomedicine and in-situ evaluation and reporting of their therapeutic effects at the cellular level.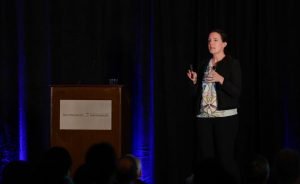 Molly Stevens, 2019
Molly Stevens, professor of biomedical materials and regenerative medicine at Imperial College London, received the award for innovative applications that address critical healthcare challenges. These include the development of nanoparticle-based serological tests for surveillance of Ebola survivors in Uganda using smartphone-enabled technology.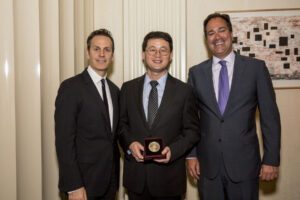 Liangfang Zhang, 2017
Liangfang Zhang, a professor at the University of California, San Diego, received the award for creating unique biology-mimicking nanotechnology that holds great promise in medicine. The technology takes synthetic nanoparticles and encloses them in natural cell membranes.
Kabiller Rising Star Award Past recipients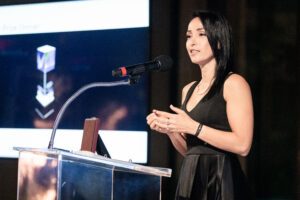 Natalie Artzi, 2021
Natalie Artzi is a rising star in intelligent nanomaterials for medical applications. Her research has defined a new niche at the intersection of biomaterials science, biology, and medicine that examines the contextual and reciprocal interactions between materials and tissues to improve human health.