Awards and Honors
Nineteen IIN-affiliated faculty members on 2021 Highly Cited Researchers List
November 16, 2021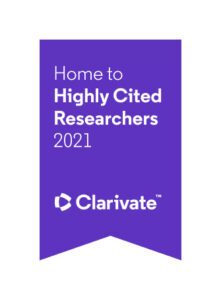 Nineteen researchers affiliated with the International Institute for Nanotechnology have been named to the annual Highly Cited Researchers™ 2021 list from Clarivate, representing interdisciplinary excellence in chemistry, medicine, engineering, materials science, physics and other fields.
This highly anticipated annual list identifies researchers who demonstrated significant influence in their chosen field or fields through the publication of multiple highly cited papers during the last decade. Their names are drawn from the publications that rank in the top 1% by citations for field and publication year in the Web of Science™ citation index.
The methodology that determines the "who's who" of influential researchers draws on the data and analysis performed by bibliometric experts and data scientists at the Institute for Scientific Information™ at Clarivate. It also uses the tallies to identify the countries and research institutions where these elite researchers are based.
The IIN-affiliated researchers on the list are:
Navdeep S. Chandel
William Dichtel
Vinayak P. Dravid
Omar K. Farha
Mark C. Hersam
Jiaxing Huang
Younggang Huang
Joseph T. Hupp
Mercouri G. Kanatzidis
Tobin J. Marks
Chad A. Mirkin
John A. Rogers
Ted Sargent
George C. Schatz
Randall Q. Snurr
Jeffrey A. Sosman
Fraser Stoddart
Michael R. Wasielewski
Chris Wolverton
Stoddart, Mirkin, and Mark are among the 376 Citation Laureates™ recognized by Clarivate, through citation analysis, as world-class researchers since 2002. Out of this number, 59 have gone on to receive the Nobel Prize.
The full 2021 Highly Cited Researchers list and executive summary can be found online here.
Northwestern is listed as the secondary institution for Jiaxing Huang and Jeffrey Sosman.