Nanotechnology at Northwestern
Meet Peter Smith, a Weinberg Family Postdoctoral Fellow
September 16, 2022
Peter Smith is a postdoctoral scholar associate in the Judd A. and Marjorie Weinberg College of Arts and Sciences looking to create renewable energy through chemistry.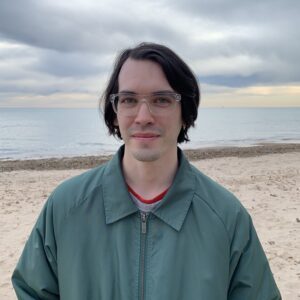 Where are you originally from?
I was born in New York and raised in Connecticut.
Where did you complete your undergraduate degree?
I graduated with a BS in Chemistry from New York University.
When did you first become interested in chemistry?
My high school chemistry class first hooked me when I realized that I was excited to learn new material and enjoyed going to class. This continued while I was at NYU and spent more time reading my chemistry textbooks than focusing on any other courses I was taking. I felt comfortable reading and learning about this new field, and I get to continue that enjoyment while reading the current journal literature.
How do you explain what you study to non-scientists?
I focus on chemistry approaches to sustainable energy. Renewable energy is a highly appealing concept, but there are many challenges in being able to capture, store, and then use such energy sources. My work has focused on energy storage and usage, such as storing renewable energy in the form of chemical bonds and then breaking those bonds when needed. More specifically, I aim to use electricity to convert carbon dioxide into potential fuel sources or similarly valuable chemicals and transform oxygen for more efficient fuel cells.
What inspired you to focus on that, and what do you hope to achieve?
When I was applying to graduate school and choosing a lab to work in, electrochemistry and solar fuels were appealing because they used a range of fundamental chemistry ideas to target solutions for the climate crisis. I wanted to use chemistry to work towards developing a new system and infrastructure that transforms things for the better, and hopefully, I am still headed in that direction!
What has been a highlight of your time at Northwestern?
A major highlight of research for me has always been developing new ideas, methods, and experimental results that are followed and replicated by others to push their research forward. Teaching others my methods or exploring some of my ideas together and seeing success is always a highlight, especially now while working in a different field than I was trained in.
What has been the most challenging aspect of your work or your time at Northwestern?
The pandemic is the big one that's hard to ignore. Beginning my position at Northwestern while we were still working in shifts and getting trained on new instrumentation virtually was a challenging start. Beyond that, my graduate studies focused on molecular catalyst design and synthesis whereas I am now focused on nanomaterials research. Learning more about materials science and engineering has been fun and I am enjoying finding ways to integrate molecular approaches to materials design and discovery.
Can you tell me about your experiences either being mentored or mentoring others?
Mentorship has been one of the most important aspects of scientific research that I have experienced. I greatly value learning techniques from others and seeing various viewpoints. Combining what I learn from others helps to make me a better scientist. During my time at Northwestern, I have had great opportunities to work with others and develop methods and cultivate environments that encourage this productive exchange of knowledge.
What are your hobbies outside of the lab?
I enjoy biking every day, either commuting to Northwestern or exploring Chicago. Learning to bike through the winters has been a particularly exciting experience. I also enjoy gardening and spending a lot of time with my two cats.