Awards and Honors
Jian Cao Named Vannevar Bush Faculty Fellow
May 15, 2019
The highly competitive honor from the US Department of Defense includes a $3 million, five-year research grant
EVANSTON, Ill.—Northwestern Engineering's Jian Cao has been chosen by the US Department of Defense as a 2019 Vannevar Bush Faculty Fellow, a highly competitive award supporting transformative, university-based research.
Cao is the Cardiss Collins Professor of Mechanical Engineering and (by courtesy) civil and environmental engineering and materials science and engineering as well as associate vice president for research. She also serves as the director of the Northwestern Initiative for Manufacturing Science and Innovation, and is an International Institute for Nanotechnology at Northwestern (IIN) affiliated researcher.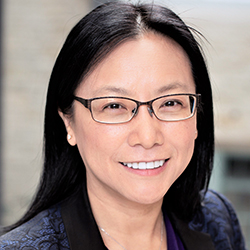 The DoD's Basic Research Office received more than 250 white papers, from which panels of experts selected the 10 fellows for 2019. This single investigator award includes a $3 million, five-year grant to fund cutting-edge research.
Cao's research includes innovative manufacturing processes and systems, particularly in the areas of deformation-based processes and laser processes. Her work has made fundamental contributions to the characterization of the effects of material structure on forming behavior of metals and woven composites, and has integrated analytical and numerical simulation methods, control and sensors, and design methodologies to advance manufacturing processes. Her current research at the McCormick School of Engineering has direct impacts on energy-efficient manufacturing, surface engineering, and distributed manufacturing.
As a member of the 2019 class, Cao joins a cadre of 55 current fellows, who conduct basic research in areas of importance to the DoD, ranging from materials science and cognitive neuroscience to quantum information sciences and applied mathematics. Additionally, fellows engage directly with the DoD enterprise to collaborate with DoD laboratories and share insights with DoD leadership and the broader national security community.
Past Northwestern awardees of the Vannevar Bush Fellowship include: Monica Olvera de la Cruz, Lawyer Taylor Professor of Materials Science and Engineering and professor of chemistry; Teri Odom, Charles E. and Emma H. Morrison Professor of Chemistry; Rick van Duyne, professor of chemistry and biomedical engineering; and Chad Mirkin, George B. Rathmann Professor of Chemistry and professor of materials science and engineering.
Cao's major honors include the Blackall Machine Tool and Gage Award from the American Society of Mechanical Engineers (ASME); the Charles Russ Richards Memorial Award from ASME and Pi Tau Sigma; the Frederick W. Taylor Research Medal from the Society of Manufacturing Engineers; and The International Academy for Production Engineering Fellowship.
Read the full article on the Northwestern Engineering website.
The International Institute for Nanotechnology at Northwestern University is an umbrella organization that represents and unites more than $1 billion in nanotechnology research, education and supporting infrastructure.