News
IIN Steering Committee Member William Dichtel tells undergraduate researchers to "take the good of every experience"
June 27, 2019
Professor Dichtel speaks to Northwestern Undergraduate Research Journal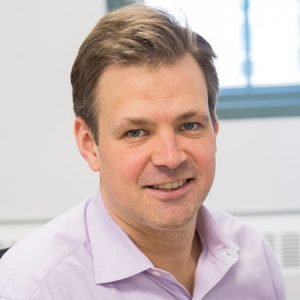 EVANSTON, Ill.—"Take the good of every experience"
William Dichtel is the Robert L. Letsinger Professor of Chemistry at Northwestern. He helped pioneer the class of organic material known as covalent organic frameworks and was dubbed a MacArthur "Genius" in 2015 for his discoveries. Once an undergraduate researcher himself, Prof. Dichtel shared his journey through academia with us.
"After graduating high school, I attended the Massachusetts Institute of Technology (MIT). MIT is a really special place in terms of science and engineering research, and I became extremely interested in chemistry and organic chemistry from the professor there who taught the undergraduate sequence named Daniel Kemp. He was very well-known for being very quotable, having a very dry sense of humor. We would write down his quotes throughout the semesters," Dichtel laughed. Interested in science and technology from a young age, Dichtel's college experience early on helped him to gravitate towards chemistry.
"Later on, I lucked into my first job in a lab. I had a discussion session with a teaching assistant (TA), that was scheduled for late in the afternoon on Fridays. The second time the class met, everyone besides me had dropped. By total luck, I ended up in a personal discussion session in organic chemistry and became friends with the TA. He then recommended me to his Ph.D. advisor, who offered me a position over the summer. That faculty at MIT, Tim Swager, had since developed into my mentor for many years."
Dichtel's serendipitous and pleasant experience with the introductory organic chemistry sequence has shaped the way he approaches teaching ever since. "I was very fortunate to meet professors who were very passionate about teaching organic chemistry in a way that was accessible and maintained the connection between the subject and everyday life, instead of treating it like a course that was exotic and meant to be difficult for various reasons. I have taken my personal experience to heart very much, and when I teach chemistry, I really strive to do the same thing." At the time we speak, Dichtel is teaching the last quarter of the honor organic chemistry sequence. He assembles three TAs for the class with less than 30 students to provide maximum support. Dichtel also introduces to his class a "Molecule of the Day" each time they meet on topics ranging from chess colorings to self-healing materials.
Productive mentorship has benefited Dichtel greatly ever since he stepped into his first lab at MIT. He vividly recalls an influential mentoring experience during his postdoc. "I was at my transition from undergraduate school to the beginning of my postdoc. My group in graduate school was very, very large. We had anywhere from 35 to 50 members of our group. So, as a graduate student, I contributed heavily to the papers that I wrote; I produced all the first drafts and contributed a lot to the editing. I thought pretty highly of myself as a writer as I got my Ph.D. [laughs] and when it came time to write up my early results as a postdoc, my mentor Fraser, who is now my colleague here at Northwestern, sat me down. We went through my draft, sentence by sentence, which I had never done before with a mentor, and the paper improved dramatically, and I was really grateful for that experience. When we started, I was sort of incredulous of what we were doing, but I saw the care that he used in his language and the craftsmanship. There was a whole another level of writing that I had not yet achieved."
Fast forward to Dichtel's current research projects, the group strives to explore new boundaries of organic materials. "We are always trying to develop new chemistry to control the structure and properties of materials that are not possible before. One of the things that our group is relatively well known for is synthesizing two-dimensional and three-dimensional polymers with well-defined structures, instead of being repeating linear things like traditional polymers, or poorly defined, cross-linked materials—two structures that dominated polymers for centuries. When you try to expand the structural concept into 2D and 3D, you start to form grids and tiers instead of randomly coiled, chains of spaghetti, and you naturally build empty space into the materials as well," which is another theme the Dichtel group studies. These porous materials have tremendous potential in areas like energy storage.
One particularly notable project Dichtel has been working on is the commercialization of a micropollutant-removing polymer, which his team discovered in 2015. "Notably, it was made from two commercially available compounds in just a single step, and it outperformed comparable materials that are used now. In 2016, I founded a company called Cyclopure that commercializes this material. There's a big gap between what we do in a research lab and what you have to before you can sell something as a product. For example, when we were making the material for the first time, we were only making about 25 milligrams at a time, while we are now undertaking problems that will require metric tons or more. An academic lab is not even set up to even think about doing that—that's not our main focus. Commercializing a product requires returning to the drawing board and making the project scalable; all of a sudden you care about yield, along with a lot of other parameters that you ignore in academia."
Dichtel describes the entrepreneurship journey as exceedingly "educational and difficult". Yet, the rewarding experience has reshaped the way he regards science in terms of social impact. "It's also inspiring for our research group—both for students who have contributed to that particular project and all of us—to see our work move beyond the University and really show that we have a serious commitment towards addressing societal problems with our work. That's one of the purposes of science: to improve humankind."
In contributing to all those work, undergraduates play a big role in Dichtel's group. He speaks highly of his students and undergraduate researchers in Northwestern at large. "Northwestern undergraduates have been really amazing contributors to our work in our first three years here. At any given time, we usually have two to three undergraduate researchers working in our lab. Northwestern undergraduates are incredibly bright and very driven individuals. They are often looking for research experience to both learn about research but also pursue it in the future. I think it's important to provide these opportunities, and I think we're playing our part in that."
Looking back at the moments of his scientific career, Dichtel also hopes undergraduate researchers can take away his prospects on research endeavors. He encourages undergraduates to branch out and to pay attention to the professional aspects as they work in labs. "My advice is to really explore it and enjoy it and not to put too much pressure on yourself in terms of results or for making a life-changing decision. I really think it takes six months to a year of doing research and having some failure and having some success, developing good habits and technical skills before you can really make any legitimate decision about whether you like it, whether you should continue the path down and moreover whether you should make a change."
"Take opportunities and make the most of them, and try to accumulate more than one type of research experience. Find the good in whatever situation you land in and take something from every experience. I think this is something that transcends research — try to find the good in everything. If you do that both as an undergraduate researcher and throughout your life, you'll look back to see a diverse richness."
Read the original article at Northwestern Undergraduate Research Journal.
The International Institute for Nanotechnology at Northwestern University is an umbrella organization that represents and unites more than $1 billion in nanotechnology research, education and supporting infrastructure.