Awards and Honors
IIN honors 12 outstanding Northwestern nanotechnology researchers
November 14, 2019
Outstanding Researcher Awards presented at 16th annual IIN Symposium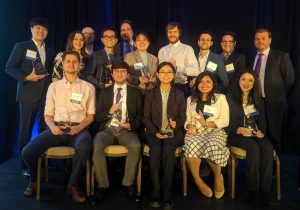 The International Institute for Nanotechnology (IIN) at Northwestern University presented nine graduate students and three postdoctoral researchers with Outstanding Researcher Awards at the 16th annual IIN Symposium on Thursday, Nov. 14, at the Hilton Orrington Hotel in Evanston, Illinois.
The awardees were recognized for their exceptional contributions to the broad field of nanotechnology research by Nathan Gianneschi, the IIN Associate Director and the Jacob & Rosaline Cohn Professor of Nanotechnology.
Each recipient received a crystal award and $300.
"These 12 researchers, who are working on a broad range of nanotechnology solutions and applications within the fields of engineering, biology and chemistry, are truly outstanding," said Gianneschi. "They represent the future of nanotechnology research and discovery, and we are very happy to recognize them with these awards."
The 2019 IIN Outstanding Researchers represent four departments within the Judd A. and Marjorie Weinberg College of Arts & Sciences and the Robert R. McCormick School of Engineering and Applied Science at Northwestern and include:
Raudel O. Avila – mechanical engineering
Megan E. Beck –materials science and engineering
Adam J. Dannenhoffer – materials science and engineering
Shikai Deng, Ph.D. – chemistry
Yishu Jiang – chemistry
Xiaotong Li – chemistry
Taegon Oh, PhD – materials science and engineering
Devleena Samanta, Ph.D. – chemistry
Kacper Skakuj – chemistry
Tyler J. Slade –chemistry
Shuya Wang – interdisciplinary biological sciences
Gokay Yamankurt – interdisciplinary biological sciences
For more information about the IIN Outstanding Research Awards, please contact Sheryl Cash.