Awards and Honors
IIN Director Chad A. Mirkin receives prestigious Remsen Memorial Lecture Award
November 16, 2018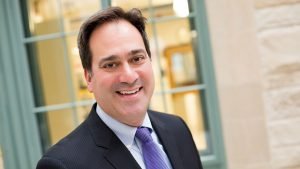 Evanston, Ill.—IIN Director Chad A. Mirkin received the prestigious Remsen Award on Thursday (Nov. 15) in Baltimore for his outstanding discoveries in chemistry. The award is presented annually by the American Chemical Society Maryland Section, in conjunction with the Johns Hopkins University Department of Chemistry.
The distinction places Mirkin, the George B. Rathmann Professor of Chemistry in the Weinberg College of Arts & Sciences and director of the International Institute for Nanotechnology at Northwestern, a list of scientific luminaries, including 17 Nobel laureates.
The Remsen Award was created in 1946 in honor of Ira Remsen, the first chairman of the chemistry department and the second president at Johns Hopkins University. The honor recognizes chemists of outstanding achievements, mirroring Remsen's long career as a professor and researcher. Remsen awardees include scientists Edward Teller, Willard Libby, R.B. Woodward, Charles Townes, Roald Hoffman and Robert Grubbs. To date, 17 Nobel laureates have received Remsen Awards.
"It is a tremendous privilege to receive the Remsen Award and to know that I share this honor with the world's most accomplished chemists, in some cases, historical icons who have inspired aspects of my work," Mirkin said. "I sincerely thank the ACS Maryland Section and the Johns Hopkins department of chemistry for this extraordinary honor."
Mirkin is a world-renowned chemist and expert in nanotechnology, primarily noted for his invention of spherical nucleic acids (SNAs) used in materials and colloidal crystal engineering, extracellular and intracellular molecular diagnostics, gene regulation and immune modulation. Currently, SNAs are the basis for more than 1,600 commercial products, including four drugs undergoing human clinical trials.
Mirkin is a professor of medicine at Northwestern University Feinberg School of Medicine and professor of chemical and biological engineering, biomedical engineering and materials science and engineering in the McCormick School of Engineering. He is one of very few scientists, engineers and medical doctors to be elected to all three branches of the U.S. National Academies: the National Academy of Sciences, the National Academy of Engineering and the National Academy of Medicine.
The International Institute for Nanotechnology at Northwestern University is an umbrella organization that represents and unites more than $1 billion in nanotechnology research, education and supporting infrastructure.