Awards and Honors
IIN announces 2018 Ryan Fellows
August 03, 2018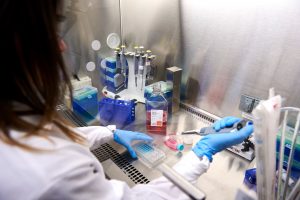 EVANSTON, Ill.–The International Institute for Nanotechnology (IIN) has announced the 2018 Ryan Fellowship Awardees. The Ryan Fellowship, created in 2007 and made possible by a generous donation from Patrick G. and Shirley W. Ryan, supports exceptional graduate students dedicated to the exploration of fundamental nanoscale science geared toward practical applications that benefit society.
In addition to rigorous research with IIN-affiliated partners, the Ryan Fellows participate in a variety of collaborative activities including quarterly research presentations, retreats, seminars and symposia. To date, there have been 156 Ryan Fellows, many of whom are now in leadership positions at prestigious universities, corporations, and national laboratories.
The new 2018 Ryan Fellows are as follows:
Simone Bianconi, electrical engineering
Heather Calcaterra, chemical and biological engineering
Riki Drout, chemistry
Kendall Ezell, Medical Scientist Training Program (MSTP)
Oliver Hayes, chemistry
Jasmine Hershewe, chemical engineering
Brendan Kerwin, chemistry
Young Ah Lee, materials science & engineering (MSE)
Akshay Murthy, MSE
Andrew Rosen, chemical engineering
Daniel Selgrade, MTSP
Aaron Stone, chemistry
Wenjie Zhou, chemistry
Read more about the Ryan Fellows program.
The International Institute for Nanotechnology at Northwestern University is an umbrella organization that represents and unites more than $1 billion in nanotechnology research, education and supporting infrastructure.