Awards and Honors
IIN-affiliated faculty members named finalists for Blavatnik National Awards
June 17, 2020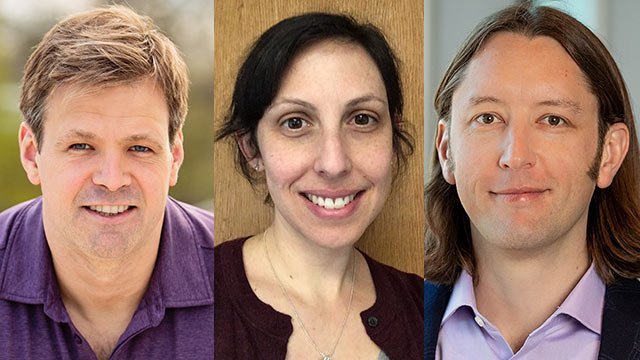 Northwestern University researchers William Dichtel, Julius Lucks and Emily Weiss have been named finalists for the 2020 Blavatnik National Awards for Young Scientists. They are among 31 scientists and engineers recognized nationally this year.
The finalists are considered to be some of America's most important young scientific researchers aged 42 years or younger, driving the next generation of innovation by addressing today's most complex and intriguing scientific questions. They now will compete for the largest unrestricted awards of their kind for early career scientists and engineers.
There are 10 finalists in each of three categories: life sciences, chemistry and physical sciences and engineering. The 2020 Blavatnik National Laureates, one from each category, will be announced on July 22. Each laureate will receive a cash prize of $250,000.
The annual Blavatnik Awards were established in 2007 by the Blavatnik Family Foundation and are administered by the New York Academy of Sciences.
Dichtel, the Robert L. Letsinger Professor of Chemistry at the Weinberg College of Arts and Sciences, is a finalist in chemistry. He was also a Blavatnik finalist in 2017 and 2019. Dichtel works at the intersection of organic, polymer and materials chemistry. He has pioneered efforts to construct materials that contain tiny pores and possess extremely high surface areas, making them ideal materials for water purification, detecting explosives and new energy storage technologies.
Dichtel is a member of Northwestern's International Institute for Nanotechnology (IIN) Steering Committee.
Lucks, a professor of chemical and biological engineering in the McCormick School of Engineering, is a finalist in life sciences. Lucks has developed a high-throughput technology called SHAPE-seq to rapidly learn about the principles of RNA folding, which is critical in making proteins and regulating genes. With this new understanding, he is making synthetic RNA to use in biological platforms for low-cost, rapid, on-demand testing for chemical contaminants and pathogens in water.
Lucks is a member of Northwestern's Center for Synthetic Biology.
Weiss, the Mark and Nancy Ratner Professor of Chemistry at Weinberg, is a finalist in chemistry. She also was a Blavatnik finalist in 2018 and 2019. A physical chemist, Weiss conducts transformative, cross-disciplinary work using quantum dots, nanoscale semiconductor particles. She uses quantum dots to study light-driven chemical reactions, biological processes on ultra-fast timescales, chemical systems that are out of equilibrium and new ways to transform insulating materials into conductors.
Weiss and Lucks are also affiliated faculty members of IIN.