Awards and Honors
Harvard's David Walt wins Kabiller Prize in Nanoscience and Nanomedicine
November 02, 2021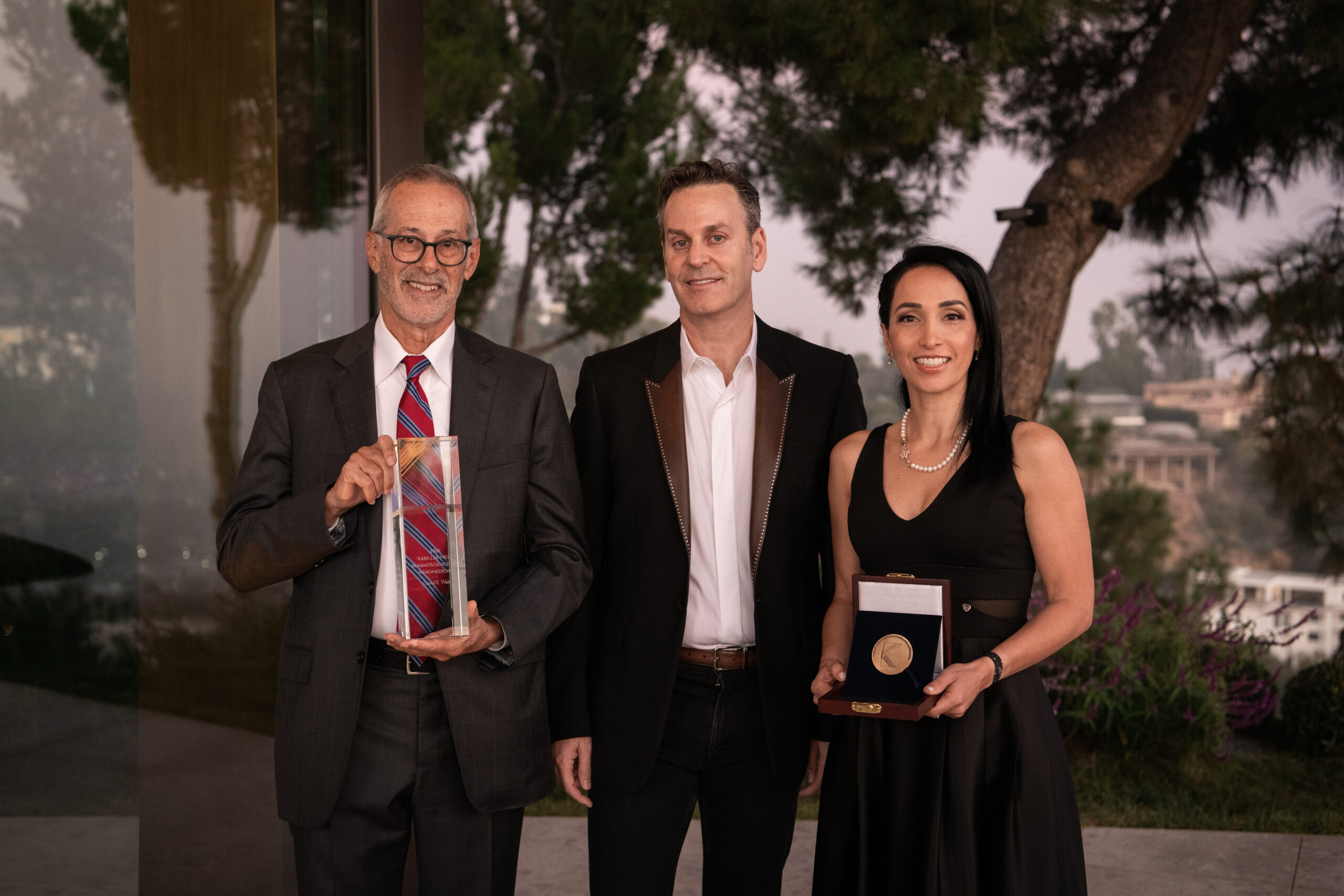 Kabiller Young Investigator Award to Bin Liu of National University of Singapore; Natalie Artzi of Harvard Medical School and Brigham and Women's Hospital to receive new Kabiller Rising Star Award to
Northwestern University announces the winners of the 2021 international Kabiller prize and awards, which biennially recognize three top scholars — one pioneer, one young investigator and one rising star — in the field of nanoscience and nanomedicine.
David Walt, the Hansjörg Wyss Professor of Biologically Inspired Engineering at Harvard Medical School, has been selected to receive the $250,000 Kabiller Prize in Nanoscience and Nanomedicine, the world's largest monetary award for a career of outstanding achievement in the field of nanotechnology and its application to medicine and biology. Walt is recognized for his pioneering work aimed at the development of ultrasensitive single-molecule array detection technology, which is impacting the way cancer, infectious disease and neurological disorders are diagnosed and treated.
Bin Liu, the Provost's Chair Professor at National University of Singapore, will receive the $10,000 Kabiller Young Investigator Award in Nanoscience and Nanomedicine for the development of nanoparticle probes for enhancing biomedical imaging capabilities and tracking disease.
New this year is the $2,000 Kabiller Rising Star Award in Nanoscience and Nanomedicine which recognizes outstanding contributions by early career faculty. Natalie Artzi, an assistant professor at Harvard Medical School and a research scientist at Brigham and Women's Hospital, is the inaugural recipient. Artzi designs smart material platforms and medical devices aimed at monitoring human health and increasing the efficacy of disease therapies.
Walt, Liu and Artzi will be honored at a special dinner to be held today (Nov. 2) in Beverly Hills, California. The three will be featured speakers at Northwestern's 2022 International Institute for Nanotechnology (IIN) Symposium on Oct. 27, 2022.
Established in 2015, the Kabiller Prize and Kabiller Young Investigator Award have been made possible through the generosity of entrepreneur and Northwestern trustee and alumnus David G. Kabiller ('85, '87 MBA). In 2018, Kabiller endowed the Kabiller Prize and Award, ensuring that this transformative recognition continues in perpetuity. The new Rising Star Award was created this year because of the exceptional amount of activity in nanomedical research.
"Professor Walt's name is synonymous with both optical sensing and ultrasensitive diagnostics, and his scientific impact on the fields of nanoscience and nanomedicine is truly remarkable," Kabiller said. "His optical microwell array sensors have impacted the health of millions of people around the world, and his founding of the company Illumina has changed the way DNA sequencing is done around the world. We are thrilled to recognize research marked with this level of creativity and insight."
An independent, international committee of renowned scientists selected winners from a pool of nominees.
"The Kabiller Prize, Kabiller Young Investigator Award and inaugural Kabiller Rising Star Award are made possible by David's passion for supporting and encouraging innovation and excellence," said Chad Mirkin, founding director of the IIN. "He is a visionary and a champion for critically important initiatives including the International Institute for Nanotechnology. We are honored to have these outstanding awards under our umbrella."
Mirkin is the George B. Rathmann Professor of Chemistry in Northwestern's Weinberg College of Arts and Sciences. He was a member of the 2021 Kabiller Prize and Awards Selection Committee.
"Northwestern and the IIN are delighted to be the home of these prestigious awards," said Northwestern University President Morton Schapiro. "We welcome these three outstanding scientists into the growing community of Kabiller prize and award recipients, whose innovations in nanoscience and nanomedicine are making meaningful impacts in the field."
David Walt
Walt is being recognized for the extraordinary impact of his transformational work on nanoscale optical sensors and sensor arrays, which have revolutionized modern medicine and provided practical solutions to urgent analytical problems in genetics, medical diagnostics and environmental sensing.
The technological impact of Walt's work is apparent in the large number of his inventions that have been successfully transitioned to industries, including the microwell-based DNA array invention that is in part responsible for what has become the $70 billion company Illumina, Inc. and the single-molecule detection method known as Simoa, which forms the core technology of the $2.2 billion company Quanterix Corp.
"The prestige of the Kabiller Prize draws attention to nanoscience and nanomedicine, which have truly changed the world," Walt said. "It is a true honor and thrill to be recognized for our contributions to these transformative fields."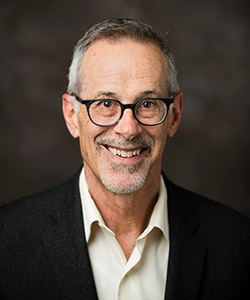 In addition to his role at Harvard, Walt is also a professor of pathology at Brigham and Women's Hospital, core faculty at the Wyss Institute for Biologically Inspired Engineering at Harvard University and a Howard Hughes Medical Institute Professor. He is the scientific founder of Illumina and Quanterix and has co-founded several other life sciences startups.
The use of microwell-based DNA arrays for single-molecule detection and analysis has revolutionized the process of genetic sequencing and analysis, enabling the cost of DNA sequencing and genotyping to plummet nearly a millionfold in the last decade.
This technology is now the gold standard for sequencing and genotyping in a wide variety of applications including screening embryos for genetic defects before in vitro fertilization, detecting cancer and identifying individuals' metabolic profiles to ensure proper drug dosage.
Walt's laboratory also is investigating the limits of high-density microwell arrays for genetic and proteomic analysis based on single-molecule detection with unprecedented sensitivity to detect low-concentration biomarkers in blood. His lab is applying these new diagnostics tools and new biomarker assay technologies to unmet clinical needs including early detection of breast cancer, detection of active tuberculosis and other infectious diseases, diagnosis of neurodegenerative diseases and prediction of immunotherapy response for cancer. This past year, Walt and his lab members have been deeply involved in developing new tools to understand and diagnose COVID-19.
Walt is a member of the National Academy of Engineering and the National Academy of Medicine and is a fellow of the American Academy of Arts and Sciences, the American Institute for Medical and Biological Engineering and the National Academy of Inventors. In 2019, he was inducted into the National Inventors Hall of Fame at the U.S. Patent and Trademark Office.
He has received numerous national and international awards and honors across his career. They include the American Chemical Society Kathryn C. Hach Award for Entrepreneurial Success (2017), the Ralph Adams Award in Bioanalytical Chemistry (2016) and the American Chemical Society Gustavus John Esselen Award (2014).
Bin Liu
Liu is being honored for her outstanding contributions to the development of nanobiotechnology platforms that advance biomedical research and nanomedicine. These include the development of water-dispersible polyfluorenes for DNA sensing; the development of light-up molecular probes and multifunctional nanoparticle probes for the visualization of cancer metastasis and the monitoring of tissue regeneration after stem cell transplantation or immunocellular therapeutics; and the development of formulation strategies to track the delivery of nanomedicine and in-situ evaluation and reporting of its therapeutic effects at the cellular level.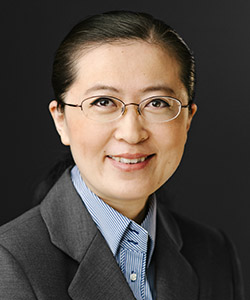 "I am deeply honored to receive this award," Liu said. "I would like to take this opportunity to thank my research team and collaborators and all those who ever supported and inspired me through my career so far. I am also very grateful to the National University of Singapore for nurturing me and supporting my research career."
Liu's research focuses on multidisciplinary collaborative projects that find practical solutions for disease diagnosis and treatment, such as the development of brain tumor-specific multimodal imaging agents for tumor margin identification and image-guided surgery. Her group also develops organic molecules with great photosensitization for one-photon or multi-photon imaging and photodynamic therapy and designs reactivity-based probes to differentiate various chemical species possessing similar size and shape in biological systems.
Liu has published more than 450 articles with over 41,000 citations. She is co-inventor on 30 issued U.S. and Patent Cooperation Treaty patents (16 licensed) on nanomaterials for biomedical applications. Liu is the recipient of the Centenary Prize and Medal by Royal Society of Chemistry (2021), ACS Nano Lectureship by the American Chemical Society (2019) and the Materials in Society Lectureship (2015) by Elsevier.
Natalie Artzi
Artzi is being recognized for defining a new niche at the intersection of biomaterials science, biology and medicine, work which examines the contextual and reciprocal interactions between materials and tissues. This in turn informs the rational design of materials and the choice of combination therapies that maximize therapeutic outcomes.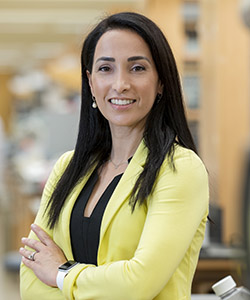 "David Kabiller recognizes the promise of nanoscience for medicine," Artzi said. "We have the power and responsibility to leverage nanomaterials to improve human health and society. My team's interdisciplinary work leverages engineering, biology and medicine to make nanomaterials for the early detection of disease and for improving the efficacy of therapies."
Artzi's multidisciplinary research group is dedicated to designing smart material platforms and medical devices for diagnosis and therapy. Artzi's contributions to the basic understanding of tissue-biomaterial interactions have changed the way materials are viewed. Materials and devices are now being "personalized" by considering specific tissue microenvironments that are altered in the face of disease. Her group has developed material platforms including a library of nanoparticles, a polymeric-microneedle transdermal patch and hydrogels that help explain how administration mode and dosing regimen — such as local, systemic and transdermal delivery — affect nanoparticle accumulation in different organs and cells and its effect on therapy efficacy.
Artzi served on the scientific advisory board of Science Translational Medicine, serves as the scientific adviser for the Stepping Strong Center for Trauma Innovation at Brigham and Women's Hospital, is a council member of the Society for Biomaterials and is the co-founder of a startup company, BioDevek, that develops next-generation biomaterials to enhance outcomes following internal surgeries.