Awards and Honors
New fellowship announced for outstanding young scientists in nanotechnology
November 30, 2020
The International Institute for Nanotechnology (IIN) at Northwestern University has announced a new fellowship to support young scientists who demonstrate outstanding talent and promise in the field of nanotechnology.
The Weinberg Family Postdoctoral Fellowship, made possible through a gift from the family of Judd A. Weinberg, will be awarded annually and includes a $65,000 stipend to support research and travel to scholarly meetings.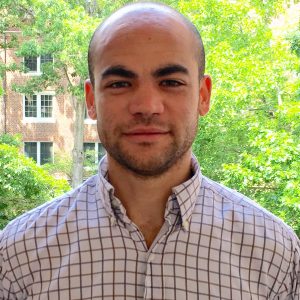 Adrian Figg is the fellowship's inaugural recipient. A graduate of the University of California Santa Barbara, Figg earned his Ph.D. in chemistry at the University of Florida and is currently a postdoctoral scholar in Northwestern's Department of Chemistry. His research is focused on arranging therapeutically relevant antibodies into modular nanoscale structures that are more potent and specific than monoclonal antibody treatments.
"I am honored and excited to receive the inaugural Weinberg Family Postdoctoral Fellowship," Figg said. "This fellowship enables me to continue studying how nanotechnology can be used to design better antibody therapeutics, and the IIN provides an ideal and unique interdisciplinary atmosphere to discover these nanotechnology-based approaches to improve human health."
Monoclonal antibody treatments are commonly used to mimic the immune system's ability to fight off harmful antigens such as viruses. For example, the U.S. Food & Drug Administration recently issued an emergency use authorization for bamlanivimab, a monoclonal antibody therapy for the treatment of COVID-19 in adult and pediatric patients.
Nanotechnology-based therapeutic agents, which are the subject of Figg's research, could target viruses like SARS-CoV-2 with far greater precision and effectiveness.
"Adrian is accomplishing great things as a postdoctoral scholar, and I am excited to watch his career unfold," said Chad Mirkin, IIN director and the George B. Rathmann Professor of Chemistry at the Weinberg College of Arts and Sciences. "His work is a prime example of the promise that nanotechnology holds for revolutionizing medicine, and the Weinberg Family Postdoctoral Fellowship will help him and other young scientists transform that promise into treatments that save lives."
Recipients of the fellowship will be postdoctoral scholars within Weinberg. Responsible for the names of both the College and the fellowship, Judd A. and Marjorie Weinberg were both alumni and among the University's most generous benefactors. Judd Weinberg died in February at the age of 93. David B. Weinberg, their son and the chairman and CEO of Judd Enterprises, serves on the Executive Council of the IIN.
"The Weinberg family has a remarkable legacy of training, motivating and empowering the next generation of leaders," Mirkin said. "With this fellowship, they are reaching young scientists at a stage when they are beginning to realize their potential and make important, original contributions to their fields. In many ways, it's the moment in their careers when this kind of support matters the most."