2nd Northwestern/Muenster Symposium on Smart Materials
Register Now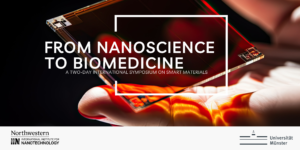 Discover the future of smart materials at "From Nanoscience to Biomedicine," a two-day symposium.
In September of 2022, the partnership between Northwestern University (NU) and the University of Münster (UM) in Germany culminated in an in-person symposium on location in Munster with seven NU faculty visiting from Weinberg and WCAS. The resounding success of this workshop forged a strong academic alliance between the institutions, leading to a renewed Memorandum of Understanding (MoU). We are thrilled to announce the much-anticipated 2nd symposium, "From Nanoscience to Biomedicine," scheduled to take place in Evanston from August 30th to 31st, 2023.
This symposium brings together brilliant minds from around the world to present captivating lectures on the latest breakthroughs in the realm of smart materials. Immerse yourself in topics like "From Monomer to Machine: Materializing Autonomy in Soft Robots," unveiling the fascinating journey of soft materials evolving into autonomous machines. Witness how "Exploiting the heavy ligand effect in photofunctional coordination compounds" can unlock novel light-induced functionalities. And delve into the "Molecular design of photoswitches for the responsive self-assembly of soft matter," where light orchestrates material structures.
This extraordinary event will also feature discussions on "Biomimetic Materials as Therapeutics," "Regenerative Biomaterials and Medical Devices," "Biohybrid Materials and Devices for Continuous Monitoring," and "Robotic and Bioactive Smart Materials," pushing the boundaries of technology and healthcare.
Join us on August 30th – 31st, 2023, at Northwestern University in Evanston as we explore the limitless potential of smart materials. This symposium is free to attend, but we ask that you please RSVP to help us plan the catering accordingly. Reserve your spot today and be a part of this extraordinary gathering that is shaping the future of smart materials!
Click HERE for a full schedule of events.
Confirmed NU participants
Guillermo Ameer, Biomedical Engineering, Surgery; Director, Center for Advanced Regenerative Engineering
Cécile Chazot, Materials Science and Engineering
Franz Geiger, Chemistry
Nathan Gianneschi, Chemistry, Materials Science and Engineering, Biomedical Engineering, Pharmacology
Todd Gingrich, Chemistry
Matthew Grayson, Electrical and Computer Engineering; Director, McCormick Global Initiatives
Shana Kelley, Chemistry, Biomedical Engineering; President Chan Zuckerberg Biohub
Sam Stupp, Materials Science and Engineering, Chemistry, Medicine, Biomedical Engineering; Director, Simpson Querrey Institute
Julia Kalow, Chemistry
Neha Kamat, Biomedical Engineering
Evan Scott, Biomedical Engineering
Linsey Seitz, Chemical and Biological Engineering
Ryan Truby, Materials Science and Engineering, Mechanical Engineering
Confirmed MU participants
Johannes Wessels, Rector
Monika Stoll, Vice-Rector for Research Affairs
Björn Braunschweig, Physical Chemistry
Olga Garcia, Organic Chemistry
Bart Jan Ravoo, Organic Chemistry
Jens Müller, Bioinorganic Chemistry
Cristian Strassert, Coordination Chemistry and Functional Imaging
Seraphine Wegner, Physiological Chemistry and Pathobiochemistry
Ursula Wurstbauer, Physics
Event Sponsors
Northwestern University International Institute for Nanotechnology (IIN)
Northwestern University Office of International Relations

Northwestern University McCormick School of Engineering

Northwestern University Office for Research
Northwestern University Weinberg College of Arts and Sciences
Northwestern University Department of Materials Science and Engineering
Northwestern University Department of BioMedical Engineering
Northwestern University Department of Chemistry
McCormick Global Initiatives
2nd Northwestern/Muenster Symposium on Smart Materials