Frontiers in Nanotechnology Seminar Series Presents Jwa-Min Nam, Seoul National University
"Chemical Nanoplasmonics: From Nanoparticle Synthesis to Surface-Enhanced Spectroscopic and Biomedical Applications"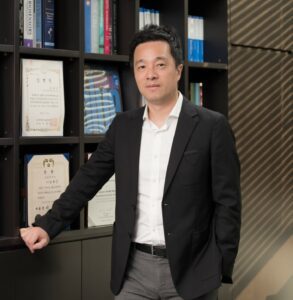 Dive into the captivating world of Chemical Nanoplasmonics at our upcoming lecture featuring renowned expert Jwa-Min Nam from the Department of Chemistry at Seoul National University, South Korea. In this illuminating session, discover the intricate interplay between light and matter on a nanoscale level, revolutionizing fields from chemistry to medicine.
Explore the nano cosmos, where light meets nanomatter, opening doors to unprecedented possibilities in chemistry, materials science, optics, and beyond. Learn the art of designing, synthesizing, and precisely controlling metal nanostructures, unlocking reliable applications in biotechnology, nanoscience, and medicine. Marvel at the molecular precision of plasmonic nanostructures like metal nanogap structures and multi-component metal nanoparticles, providing unparalleled insights through techniques like surface-enhanced Raman scattering. Join us as we address challenges and unlock solutions in biosensing, bioimaging, therapeutics, and explore their role in nanochemistry breakthroughs, disease diagnostics, molecular computing, as well as the intriguing realm of nanomachines and nanorobotics.
Get to Know Jwa-Min Nam
Jwa-Min Nam, Ph.D., is a distinguished professor at the Department of Chemistry, Seoul National University, with a remarkable academic journey. He earned his Ph.D. in chemistry from Northwestern University in 2004 and subsequently conducted pioneering research as a postdoctoral fellow at the University of California, Berkeley. Since 2006, Dr. Nam has been an integral part of Seoul National University, where he has held various leadership positions, including Vice Chair of the Department of Chemistry.
His expertise spans diverse fields, from metal nanoparticle synthesis to nanoplasmonics, biosensing, bioimaging, therapeutics, and biocomputing. Dr. Nam's contributions have been recognized globally through his extensive publication record, which includes over 150 papers in high-impact journals such as Science, Nature Nanotechnology, and the Journal of the American Chemical Society. He holds over 60 patents, several of which have been successfully commercialized, demonstrating his impact on industry.
Dr. Nam is a sought-after speaker, having delivered approximately 280 plenary, keynote, and invited talks at prestigious conferences, universities, institutes, and companies worldwide. His outstanding achievements have been acknowledged with numerous awards, including the Presidential Young Scientist Award from the President of the Republic of Korea in 2012 and the Distinguished Lectureship Award from the Chemical Society of Japan in 2013.
Currently serving as an Associate Editor of Nano Letters (ACS Publications), Dr. Nam's influence extends to various editorial advisory boards, including ACS Central Science, Accounts of Chemical Research, and Small Methods. He has also guest-edited special issues for leading journals, showcasing his leadership in shaping the future of scientific research.
Dr. Nam's innovative contributions continue to drive advancements in the field, making him a trailblazer in the world of chemistry and nanotechnology.

Frontiers in Nanotechnology Seminar Series Presents Jwa-Min Nam, Seoul National University