Frontiers in Nanotechnology Seminar Series Presents Dr. W. Gregory Sawyer, Moffitt Cancer Center
"
Life in Miniature: Immuno-Oncology in Three-Dimensions"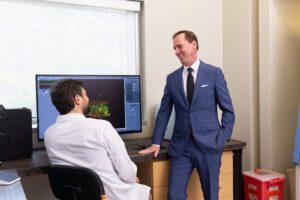 Join us for an illuminating lecture by Dr. W. Gregory Sawyer from the Moffitt Cancer Center as he presents "Life in Miniature: Immuno-Oncology in Three-Dimensions." Dr. Sawyer, a distinguished authority in the field, will take us on a journey through the revolutionary world of advanced microscopy techniques and their impact on immuno-oncology.
In this captivating presentation, Dr. Sawyer will uncover how cutting-edge technologies, including scanning-confocal, light-sheet, and multiphoton microscopy, are reshaping our understanding of immuno-oncology in unprecedented ways. These techniques offer a three-dimensional perspective on the intricate interactions between the immune system and cancer cells, opening new avenues for diagnosis and treatment.
Dr. Sawyer's visionary approach bridges human microtissues and medical science, enabling personalized disease models for comprehensive studies. By synergizing engineering and science, this lecture will highlight the vital role of cancer engineering in advancing immuno-oncology and patient-specific models.
Don't miss this unique opportunity to delve into the captivating realm of immuno-oncology and microscopy with Dr. Sawyer and witness the future of medical research unfold before your eyes.
Get to Know Gregory Sawyer
Dr. W. Gregory Sawyer is the Founding Chair of the Department of BioEngineering, a new Division of Basic Science department, and the Chief BioEngineering Officer (CBEO). Dr. Sawyer is appointed a Senior Member and will also have a secondary appointment in the Departments of Thoracic Oncology and Cutaneous Oncology.
Dr. Sawyer earned his PhD in Mechanical Engineering from Rensselaer Polytechnic Institute, Troy, NY. Dr. Sawyer joins us from the University of Florida-Gainesville, where he was an N.C. Ebaugh Professor and Distinguished Teaching Scholar in the Department of Mechanical and Aerospace Engineering.  Dr. Sawyer was a member of the original Mars Rover design team at NASA's Jet Propulsion Laboratory (1992)  and led the first experiments with moving mechanical assemblies to evaluate nanocomposites on the International Space Station (2011).  He is a member of the US National Academy of Inventors, holds over 20 patents, founded Aurita Bioscience, has authored over two hundred peer-reviewed scientific publications, has been cited over 15,000 times, and has mentored dozens of PhD students who are now faculty working at the interfaces of engineering and biomedicine.
Dr. Sawyer's current research interests include visualizing the interactions between cancer cells and the tumor microenvironment using bio-printing techniques and precision engineering approaches using an ex vivo platform pioneered in his Cancer Engineering Laboratory at the University of Florida. Dr. Sawyer will build the new Magnolia Campus department before moving to the Moffitt Center for Innovation at Speros, FL.  There, the Department of BioEngineering will partner with other departments in the Division of Basic Science to accelerate the discovery of cancer pathways and therapy.

Frontiers in Nanotechnology Seminar Series Presents Dr. W. Gregory Sawyer, Moffitt Cancer Center