Awards and Honors
Chad Mirkin named to Tech 50 by Crain's Chicago Business
July 08, 2020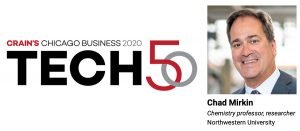 IIN Director Chad Mirkin was named to the 2020 Tech 50 by Crain's Chicago Business, joining a list of the most significant CEOs, politicians, and technological innovators in Chicago.
For the 10th edition of the Tech 50, Crain's noted that the publication had "…revisited our previous lists with an eye toward those who made lasting impacts and remain in the game. It's largely an all-star list."
Under Mirkin's leadership, research at the IIN attracts the best and brightest from around the world, and results in groundbreaking discoveries here at Northwestern.