Awards and Honors
Ameer named Fellow of Materials Research Society
April 01, 2021
MRS Fellows program recognizes outstanding contributions to materials field
Northwestern Engineering's Guillermo A. Ameer has been named a fellow of the Materials Research Society for his contributions to regenerative engineering through pioneering work developing antioxidant citrate-based polymers that are useful for musculoskeletal, cardiovascular, dermal, and urological applications, rendering them enabling technologies to improve health.
Ameer is the Daniel Hale Williams Professor of Biomedical Engineering in the McCormick School of Engineering and a professor of surgery in Northwestern's Feinberg School of Medicine. He also is founding director of Northwestern's Center for Advanced Regenerative Engineering and an affiliated faculty member of the International Institute for Nanotechnology.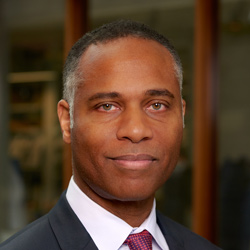 Founded in 2008, the MRS Fellows program recognizes outstanding contributions to the field, including research, leadership, and service that have advanced the mission of the materials community world-wide. It is intended to be a lifetime recognition of distinction in the field, rather than an award for a specific achievement.
A prolific author of academic papers, Ameer holds numerous patents. Since October 2020, several innovative orthopedic medical devices, Citrelock, Citrefix, and Citrespline, fabricated from a novel biomaterial pioneered in Ameer's lab have received clearance from the US Food and Drug Administration for use in surgeries to attach soft tissue grafts to bone.
The honor is the latest for Ameer, who was a recipient of the 2021 Clemson Award for Contributions to the Literature from the Society for Biomaterials, inducted to the Academy of Distinguished Chemical Engineers by the University of Texas at Austin's McKetta Department of Chemical Engineering, and elected to the Board of Directors  of the American Institute of Medical and Biological Engineering for 2021-2023 as Chair-Elect of the College of Fellows. He was also named a fellow of the National Academy of Inventors in 2020, and the American Association for the Advancement of Science in 2019.