News
VIDEO: Final meeting of the President's Council of Advisors on Science and Technology (PCAST) under President Barack Obama, held Jan. 6, 2017
January 11, 2017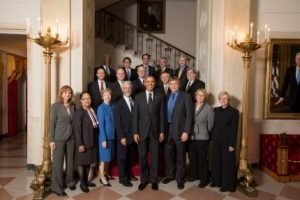 This Administration's final meeting of the President's Council of Advisors on Science and Technology (PCAST) was held on January 6, 2017 in Washington, D.C.
An important agenda item was a review of the National Nanotechnology Initiative (NNI). The NNI is a U.S. Government research and development initiative that was established in 2001. It involves 20 departments and independent agencies working together toward the shared vision of "a future in which the ability to understand and control matter at the nanoscale leads to a revolution in technology and industry that benefits society."
Click here to view the webcast: http://www.tvworldwide.com/events/pcast/170106/globe_show/default_go_archive.cfm?gsid=3048.