News
400th Patent for Northwestern Nanotechnology Pioneer
October 30, 2023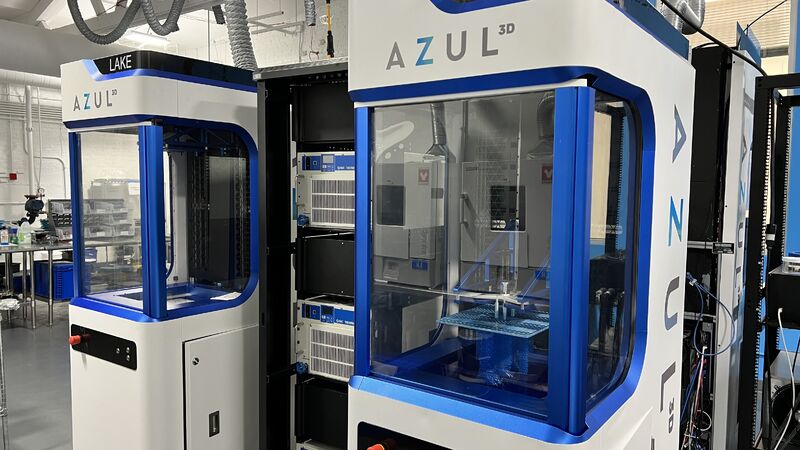 Milestone for Chad Mirkin in translating scientific discoveries into game-changing products
Nanotechnology pioneer Chad Mirkin has been issued his 400th patent, a milestone that places him at the forefront of a field described as "the next industrial revolution." 
As a professor, scientist, inventor, and entrepreneur, Mirkin has successfully taken ideas from the lab and translated them to the marketplace. Fittingly, the 400th patent describes a method and apparatus for 3D printing that was invented by Mirkin and his research group at Northwestern University and has been licensed by Azul3D, a rapidly growing startup that has established major partnerships, including one with DuPont. 
"Nanotechnology is transforming fields like medicine, energy, and manufacturing, and new possibilities appear every day," said Mirkin, the George B. Rathmann Professor of Chemistry in Northwestern's Weinberg College of Arts & Sciences and the founding director of the International Institute for Nanotechnology. "The exceptional students, faculty, and administration at Northwestern make it possible to capitalize on these opportunities and turn them into products that solve big problems." 
Northwestern's Innovation and New Ventures Office (INVO) estimates that Mirkin's portfolio represents approximately 14% of the university's total patents and 42% of the chemistry department's patents.  
With a record total of over a billion dollars in sponsored research funding in 2022, Northwestern is recognized globally for its high-impact research and the commercialization of new products and services. According to INVO, patents and licensing revenue have generated more than $2.2 billion dollars for the university. 
"As a multidisciplinary, entrepreneurial leader in the sciences, Chad Mirkin has pioneered transformative advances, including at the intersection of engineering and medicine," said Eric J. Perreault, Northwestern's vice president for research. "His ability to translate fundamental research into high-impact innovation continues to shape numerous fields and provide breakthroughs that benefit individuals and society." 
Among the Chicago- and Skokie-based startups co-founded by Mirkin that typify the innovative, translational focus of his research are: 
Azul 3D

, which produces industrial-scale 3D printers with record throughput using Mirkin's patented 3D high-area rapid printing (HARP™) technology;

 

Flashpoint Therapeutics

, a biotechnology firm that develops life-saving cancer immunotherapeutics based on Mirkin's patented spherical nucleic acid (SNA) platform;

 

MattIQ

, which uses

Mirkin's patented Megalibrary technology

to discover new materials for clean energy, catalysis, and more and to generate high-quality big data to integrate with machine learning and train AI; 

TERA-print

, which develops and globally distributes nanofabrication tools using technologies patented by Mirkin.



In 2000, Mirkin founded the International Institute for Nanotechnology (IIN) at Northwestern. Research at the IIN has resulted in more than 2,000 new products and systems commercialized worldwide, as well as over 40 new startup companies that have attracted over $1 billion in venture capital funding. 
One of the most-cited chemists in the world, Mirkin has received international recognition for the invention of SNAs, which are globular forms of DNA or RNA that possess the ability to actively enter cells for detection and targeted treatment. SNAs are now the basis for more than 1,800 commercial products, and six SNA-based drugs have been in human clinical trials for diseases including psoriasis, Merkel cell carcinoma, and glioblastoma.  
His research also led to the medical diagnostic technology sold by Luminex (acquired by DiaSorin), known as the Verigene SystemTM. The Verigene System relies on the ability of gold nanoparticle-based SNA probes to latch onto snippets of DNA to detect disease very accurately and sensitively at or near the point-of-care. It is used in over half the world's top hospitals to detect anything ranging from COVID-19 to C. difficile to hereditary markers for disease.  
Dip-pen nanolithography (DPN) and related cantilever-free scanning probe lithography techniques, another class of Mirkin's inventions, make it possible to "write" molecular inks with nanometer-scale precision over large areas. These methods have enabled groundbreaking advances in fields from electronics, energy, and materials discovery to biology and medicine. National Geographic described DPN and related lithographic tools as one of the "top 100 scientific discoveries that changed the world." 
Mirkin is also a professor of medicine at Northwestern's Feinberg School of Medicine and professor of chemical and biological engineering, biomedical engineering, and materials science and engineering in the McCormick School of Engineering.  
He is among an elite group of scientists, engineers, and medical doctors to be elected to all three branches of the U.S. National Academies — the National Academy of Sciences, the National Academy of Engineering, and the National Academy of Medicine.